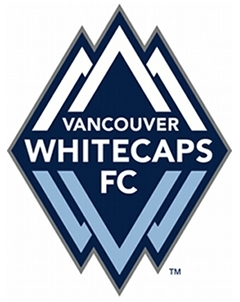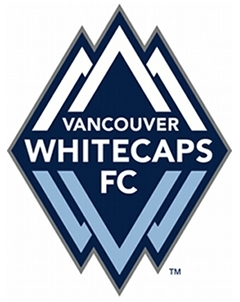 Playing their second Major League Soccer match in four days, Vancouver Whitecaps FC (5W-16L-10D) defeated Western Conference rivals Real Salt Lake (15W-11L-6D) 3-0 on Thursday evening.
In what was the Blue and White's biggest victory of their inaugural MLS campaign, two penalties by Camilo and a late strike by Nizar Khalfan earned Whitecaps FC their first MLS win on Bell Pitch downtown at BC Place in club history. It was a well-deserved fifth victory of the season for the 'Caps, as Salt Lake struggled to make inroads during the midweek contest, especially after RSL midfielder Collen Warner was sent off just before halftime.
Thursday's win ended Whitecaps FC's winless run in the league at four matches and will lift the spirits of Tom Soehn's squad heading into the final three games of the season. Though missing several key players for Thursday's game, Salt Lake will be disappointed to see their losing streak extend to four matches in MLS, with the Utah-based outfit still searching for their first win on Canadian soil in club history (0W-4L-3D).
"It was an encouraging performance," Soehn said after Thursday's match. "When we look back at the last game, it was easy to leave angry and disappointed. Today, however, we came through and did all the little things that win you soccer games. We were compact, we were aggressive, they had some possession in the final third, but whenever they penetrated, we did a good job of closing it down and creating turnovers that led to our opportunities. So on the whole, it was a real positive day, especially for some of the new guys who got in."
True to his word, Soehn made several changes to the line-up that faced arch-rivals Portland Timbers on Sunday. There was an MLS debut for Trinidad & Tobago international centre back Carlyle Mitchell, with the club's latest acquisition putting in a solid performance alongside captain Jay DeMerit. Mitchell was one of four changes to Vancouver's starting XI, as Khalfan, John Thorrington, and Long Tan also started against RSL. Soehn also shifted three of his starters into different positions from Sunday's game. 'Budweiser Man of the Match' Alain Rochat returned to left fullback, with Jordan Harvey looking very effective on the left-hand side of midfield. Camilo partnered Chinese youngster Tan in the attack.
Soehn's changes injected some much-needed energy into the 'Caps, who pressured playoff-bound Salt Lake all over the pitch during this rescheduled match that was initially due to be played at Empire Field back in mid-July. RSL struggled to match Vancouver's work rate, and after Warner's red card shortly before the break, ten-man RSL found the task of containing their hosts very difficult in the second half.
Looking to redeem themselves from the disappointing result versus Portland, Whitecaps FC made a bright start with early chances from Rochat and Gershon Koffie before the home fans made strong shouts for a penalty on 25 minutes following a Vancouver counter-attack. Camilo made a darting run into the RSL box and went down under a challenge from Salt Lake defender Chris Wingert. Despite passionate calls from the crowd, match referee Chris Penso waved those appeals away.
Considered one of the more potent attacking sides in the league, RSL's absences seemed to have an effect on the visitors, as they struggled to create a single shot on goal in the first 45. The closest RSL came before the break was Luis Gil's tight-angled byline shot that forced a routine save from 'Caps goalkeeper Joe Cannon.
Instead, it was Whitecaps FC that kept up the pressure with efforts from Khalfan and Thorrington, while Koffie was off-target again following a 'Caps corner on 40 minutes. It was a sign of things to come, and three minutes later, the game's turning point occurred.
From Camilo's curling free kick into the Salt Lake box, a scramble saw RSL goalkeeper Nick Rimando knock the ball straight at DeMerit, whose goal-bound header was deliberately blocked by the arms of Warner before hitting the post and bouncing away to safety. Referee Penso spotted the RSL midfielder's indiscretion and showed him a straight red card before pointing to the penalty spot. Camilo stepped up to take the first of his two spot kicks, confidently beating Rimando with his right foot for his 10th goal of the season and a 1-0 Vancouver lead at the half.
Down to ten men and trailing by a goal, RSL made a change to start the second half, as former Whitecaps FC striker Cody Arnoux replaced Paulo Araujo Jr. in a bid to give the visitors some kind of spark. However, it was the confident-looking 'Caps that extended their lead with another penalty shortly after the restart.
In fact, Vancouver's second penalty award could not have been more fortunate. After Gil dispossessed Khalfan near the edge of the RSL box, the ball inadvertently hit the arm of Salt Lake midfielder Ned Grabavoy, then the arm of RSL defender Chris Schuler in the top corner of his own box. The handball was spotted immediately and the penalty was given, with Camilo beating Rimando for a second time with his right foot on 53 minutes. The strike took the Brazilian's goal tally for the season to 11.
With the home side in command, there was a party atmosphere among the 20,113 that were attendance and Whitecaps FC remained in an attacking mode in the final third of the game. Camilo hit the side-netting with a curling free kick, while Harvey and Rochat had chances with a quarter of an hour remaining. As for Salt Lake, it was turning into a night to forget on Canada's west coast. It took the visitors almost 82 minutes to register their first shot on goal through 17-year-old Gil before Arnoux and Williams had efforts in the dying stages for the Utah club.
Whitecaps FC's resounding win was sealed with a well-taken third goal from winger Khalfan on 88 minutes. Cannon's forward clearance allowed substitute Omar Salgado to head the ball into the path of the unmarked Tanzanian international. The hard-working East African let the ball take a bounce before striking a fine half volley past a hapless Rimando for his first goal in MLS and confirm Whitecaps FC's three-goal victory in their new downtown home.
The 'Caps will now take the Thanksgiving Day long weekend off before returning to action on Bell Pitch downtown at BC Place next Wednesday night, October 12, when they host Eastern Conference club D.C. United. Salt Lake, meanwhile, will look to get back on track before the MLS Cup Playoffs with a Rocky Mountain Cup derby clash away to arch-rivals Colorado Rapids on Friday, October 14.
Scoring Summary:
44′ – VAN – Camilo (penalty)
53′ – VAN – Camilo (penalty)
88′ – VAN – Nizar Khalfan (Omar Salgado, Joe Cannon)
Match Stats:
Shots: Vancouver 15 – Salt Lake 6
Shots on Goal: Vancouver 5 – Salt Lake 2
Saves: Vancouver 2 – Salt Lake 2
Fouls: Vancouver 12 – Salt Lake 15
Offsides: Vancouver 2 – Salt Lake 1
Corners: Vancouver 6 – Salt Lake 2
Cautions:
34′ – VAN – Jeb Brovsky
42′ – RSL – Jamison Olave
51′ – RSL – Ned Grabavoy
64′ – RSL – Javier Morales
Ejections:
43′ – RSL – Collen Warner
Vancouver Whitecaps FC
1.Joe Cannon, 12.Jeb Brovsky, 6.Jay DeMerit, 19.Carlyle Mitchell, 4.Alain Rochat; 16.Nizar Khalfan, 11.John Thorrington (8.Peter Vagenas 68′), 28.Gershon Koffie, 26.Jordan Harvey; 37.Camilo (17.Omar Salgado 73′), 23.Long Tan (22.Shea Salinas 84′)
Subs not used: 18.Jay Nolly, 2.Michael Boxall, 7.Mustapha Jarju, 20.Davide Chiumiento
Real Salt Lake
18.Nick Rimando; 28.Chris Schuler (3.Robbie Russell 59′), 4.Jamison Olave, 6.Nat Borchers, 17.Chris Wingert; 77.Andy Williams, 20.Ned Grabavoy (13.Chris Agorsor 79′), 11.Javier Morales, 26.Collen Warner; 21.Luis Gil, 23.Paulo Araujo Jr. (27.Cody Arnoux 45′)
Subs not used: 1.Tim Melia, 19.Blake Wagner, 30.Rauwshan McKenzie
Budweiser Man of the Match: Alain Rochat