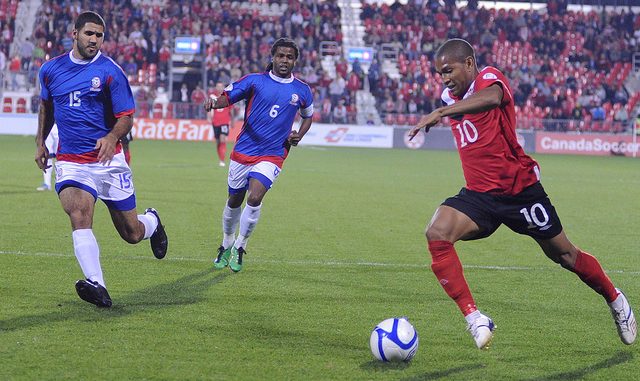 Considering how Canada had played in its previous three second round World Cup qualifiers, Tuesday's 0-0 result at home to Puerto Rico was a disappointment.
Especially since the red and white scored a resounding 7-0 victory in St. Lucia on Friday night – many were expecting the national team to attack with purpose and score a few at BMO Field as well. However, that was not the case as the game ended up being a dull affair. This was not so much Canada's fault, but had more to do with Puerto Rico's defensive formation of playing nine players behind the ball.
The Canadians dominated possession but with their opposition frustrated them in the final third, not allowing them the space to move forward and suffocating the attack. Coach Stephen Hart was ready for this approach and instructed his squad to play wide and swing balls in. He also said if that approach didn't work that his team was supposed to try a different method of attacking in the final ten minutes, but they never did.
"I don't know what the ball possession was but it was huge on our side," said Hart. "I think it was a huge lesson to understand that if what you're doing is not working you have to switch up to something else. If it's one thing we learned today is that. It's necessary to have a 'plan B', especially with ten minutes left in the game – they were clearly tired."

Added defender Adam Straith, "We knew coming in that they would play a deep game defensively. It was frustrating because we couldn't find a way to solve them. At times we moved the ball a little too slow and we were too predictable when we were going forward and I think that hurt us. Sometimes we're going to come up against teams that play that deep and I think we need to find ways to get through that."
Hart thought his team could have played with more quickness and did not capitalize on the chances they did create. He said it was also clear that Puerto Rico were not going to over commit and take risks, but were rather patiently waiting for Canada to make a mistake or find space on a counter attack. That nearly happened but goalkeeper Lars Hirschfeld made a big save late to keep the island nation scoreless.
"I'm extremely disappointed with the fact that we couldn't score," said Hart. "We tried to find the answers they basically waited for us and allowed us to have the ball. At times we were too slow and couldn't find the answers. And when we did get our opportunities we didn't take it – everybody saw the game."
"It was clear they were playing for chance, either one free kick, one set play or one breakaway opportunity. So I didn't want the team to rush things – play the game, keep the ball, try to open them up and see what happens. We created one or two opportunities…but we couldn't score. We didn't finish the chances we did have."

After the match, the players admitted that the deciding factor in the game was Canada's inability to break downPuerto Rico's backline.
"That's what is going to happen when teams come here and sit back and put numbers behind the ball, said striker Simeon Jackson who scored a hat trick on Friday against St. Lucia.
"We have to break them down, but unfortunately, we didn't do that today. We had patience, we tried to keep the ball and we tried to break them down but it was really tough. It's a learning curve for us."
Added defender Nik Ledgerwood, "I think we got to be better in our attack. We got to change things up, we need to be quicker once we get into that attacking third – we got to take more risks, be dangerous and maybe you get lucky at the end…but today we just didn't break down their backline."
The One Chance
The first half of the match was uneventful to say the least. Canada had an opportunity in the opening minutes when captain Dwayne De Rosario sent a pass into Ian Hume who was unable to get his foot on the pass, and the ball rolled out of bounds. Unfortunately, Hume was forced to leave the game in the 34th minute when he suffered a hamstring injury, but he was replaced with forward Olivier Occean.
Canada's best chances came in the second half as the team finally began to find some space, but either fired the ball wide and high or were thwarted by Puerto Rican goalkeeper Brandon Saldana.

Jackson came close in the 55th minute when he took a pass from De Rosario and fired from a bad angle in close, but Saldana was able to make an easy save. Ten minutes later it was De Rosario who got a crack at goal when he intercepted a poor backpass by Puerto Rican defender Scott Jones. He charged forward and flicked a shot on goal, but it was stopped by Saldana, who then was bowled over by the Canadian captain.
In the 69th minute, defender Ante Jazic found open space on the right side and received a pass from David Edgar. He sent a cross into Jackson who controlled the ball but his volley was sent over the goal. Ricketts came on in the 70th minute to replace Jackson and added some speed and grit in the Canadian attack.
Ricketts was able to find space behind the Puerto Rican defence in the 77th minute but his shot was stopped acrobatically by Saldana. The shot didn't count anyways as the play was whistled down for offside. Replays showed that Ricketts was onside and if the play had continued, De Rosario would have easily scored on the rebound as the ball fell to his feet with a gaping net staring back at him.
Puerto Rico did not move the ball into the Canadian half very often but it did finally get the once chance it was looking for late in the match. In the 84th minute, Christopher Megaloudis played a ball ahead for Andreas Perez, but his sliding shot from in close bounced off the chest of Hirschfeld.

The Canadian keeper charged out to cut the angle and made a potentially game-saving stop. The shot on goal was one of only two shots on goal for Puerto Rico in the entire match, but would have surely resulted in an upset had it gone in. It was unlikely Canada would have evened the score considering its inability to penetrate in the final third.
Canada can be proud of the fact that its backline did not give up a goal against St. Lucia or Puerto Rico.
"We got to be happy with clean sheets in both games," said defender Adam Straith.
"There's always stuff to work on but that comes with time. But with two clean sheets, we have to be happy with that as a defensive line."
Canada remains on top of Group D with ten points with two more games left to play against St. Kitts and Nevis in November. The Caribbean nation tied last-place St. Lucia 1-1 on Tuesday night and still trails Canada by four points in the group. Canada can advance to the third round with tie or victory in either game. Meanwhile, Puerto Rico remained in third place but was officially eliminated from World Cup qualifying with the draw.

To follow me on twitter click HERE
Download or stream the 500 Level podcast with co-hosts Aman Dhanoa and Ben Trattner as they discuss news, opinions, and views on Toronto sports from the Upper Deck. Leafs, Raptors, Jays, Argos, TFC – nothing is off limits. It's good to be a fan!
Also available on iTunes
Contact Aman Dhanoa at aman@oyetimes.com
Pictures are courtesy of Oye! Times photographers John Lucero and Karan Vyas
Click Here to see more pictures of the game from John Lucero.
Click Here to see more pictures of the game from Karan Vyas.