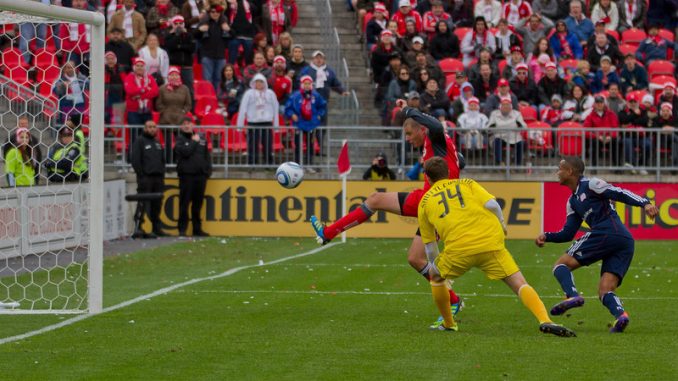 Danny Koevermans Plays Hero Again with Late Equalizer

Danny on the spot.
That has exactly what Toronto FC striker Danny Koevermans has been since joining the Reds as a designated player in midseason. On Saturday afternoon he scored his eighth league goal to rescue a 2-2 result against the visiting New England Revolution in the final game of the season.
He also took the role of playmaker to set up Nick Soolsma to open the scoring, earning his first assist of the season. After all was said and done, Koevermans finished with eight goals in just 10 MLS matches to go with two goals in seven appearances in the CONCACAF Champions League (CCL).
Head Coach and Technical Director Aron Winter saw his team struggle offensively early on in the season and he signed Koevermans for one reason – he scores goals.
"I think one of his qualities and that's why also he's a DP (designated player) and I bring him in – he's making goals" said Winter. "He needs only one opportunity to score. In the moment when it's necessary he's there."
Captain and fellow designated player, Torsten Frings agreed with his coach that his teammate has knack of being in the right place and at the right time.

"He plays the exact forward position and that he kind of hangs back all game and then in the right moment he's there and he scores his goal and that's very important for Toronto FC," said Frings through an interpreter.
Koevermans was happy with the draw as well as his performance overall since joining TFC, but admitted the goal is to make the playoffs.
"I can be happy about the first three months, yeah for sure" said Koevermans. "Hopefully next year I can score even more goals and then as a team more points because that's the most important. And then we need to make the playoffs – that's what we want around here.
"I think we did well, we progressed and eventually we got into celebration last Tuesday (advancing to CCL quarterfinals). And I think also today when we got the equalizer seven minutes before time we deserved that one and the fans deserved it. So I think everybody go home happy. I don't think the coaches agree with me now but I think 2-2 is fine today."
Koevermans was right – Winter was not happy with his team's effort but the coach did see it as a hangover from the big CCL win inDallason Tuesday.

"We didn't play a good game, we were a little bit flat," said Winter. "I think that the last game against Dallas, we had given a lot, and it's the first time in our history that we have qualified in the quarter-final of the CONCACAF Champions League. I think those things together are why the team was a little bit flat. It was not a good game."
The other area of concern for the TFC coach was that his team gave up yet another goal from a set piece – a frustrating trend all season. But Winter noted that his team needs to be better at preventing those mistakes by not giving the ball away in the first place.
"It's not just set pieces, it most of the time starts with ourselves," added Winter. "Before the corner came, we had the ball, and we lost the ball for nothing. Its not just the set pieces, if you watch this past season we have a lot of goals against us that were unnecessary, and that needs to get better for sure, next season."
Two players who have been frustrated the most with the inability to defend set pieces and defensive breakdowns are the goalkeepers – Stefan Frei and Milos Kocic.
"It's a season that we didn't get the results in. I'm just hoping it's going to stay in this season – the bad results and the bad set pieces we conceded all the goals on," said Kocic who started in goal on Saturday.
"We keep going on the next one with more aggression on the set pieces and keep the composure and ended on a good note with the win in Dallas and having a great result for the club and the fans. And for us I think we should keep going rolling into the next season with a good result."
Double Dutch

TFC started out slowly but opened the scoring in the 20th minute after great ball movement started by midfielder Julian de Guzman. He played a long ball over top of the Revolution defence and Koevermans managed to stay onside and get to the ball first. He then fired a hard pass to fellow Dutchman Soolsma who directed the ball past Bobby Shuttleworth to put TFC up 1-0.
The Reds nearly increased its lead three minutes later when the Dutch pair connected on a play started by speedy striker Joao Plata. Koevermans picked up a loose ball and passed off to Soolsma who drove a hard shot at goal but was stopped by a diving Shuttleworth. Soolsma passed off the rebound to Koevermans but his shot went over top the net.
New England pulled even just before halftime off a corner kick from Benny Feilhaber that was drilled into the net on a header by midfielder Monsef Zerka. Kocic managed to get a hand to the ball but it was not enough to keep it out and the game was tied at 1-1.
The Revolution carried over the momentum into the second half and in less than a minute capitalized on a giveaway by TFC midfielder Eric Avila. Feilhaber was the setup man again when he picked up the ball and made a diagonal pass through the box. Striker Milton Caraglio ran in from behind and made a great slide to knock the ball past a helpless Kocic to give the Revolution a 2-1 lead.
Toronto looked stunned but eventually calmed down and started to push forward on the attack. The Reds were rewarded again with great ball movement in the 83rd minute. Substitute Gianluca Zavarise started the play with a pass to Frings in the middle who then sent the ball wide left to Avila. The midfielder then lobbed a long cross into the box that missed both Zavarise and Soolsma, but bounced to Koevermans. He ran from behind and knocked it in to tie the game at 2-2.
Looking Back

Despite missing the playoffs once again, this time at season's end there isn't the same sense of disappointment and frustration of years past. Advancing to the CCL quarterfinals was a huge achievement for the club and the play in the last three months of season has the entire organization looking forward to next year with a lot of optimism and enthusiasm.
"From the moment I came I always said that the most important thing is rebuilding the team," said Winter. "Of course when we are building the team we have some targets. Targets in the different leagues, the Nutrilite Cup, CONCACAF, and MLS, we want to play well for all those targets. One of those targets in the league is to get the playoffs. But the main goal was building the team.
"Three months ago, since we have made a lot of trades, we get some better players, but also players that want to be part of the whole process. Also it was important that Torsten and Danny came in, because those things they have were missing in the team and outside of the pitch. Looking back, we won the Nutrilite Cup and qualified for the first time in CONCACAF, and did OK in the league the last three months, we have improved a lot. I think the season was not so bad."
Scoring Summary:
TOR — Nick Soolsma 3 (Danny Koevermans 1, Julian de Guzman 3) 20
NE — Monsef Zerka 2 (Benny Feilhaber 6) 41
NE — Milton Caraglio 3 (Benny Feilhaber 7) 46
TOR — Danny Koevermans 8 (Eric Avila 3, Torsten Frings 2) 83
Toronto FC — Milos Kocic, Matt Stinson, Andy Iro, Ty Harden, Ashtone Morgan, Julian de Guzman (Terry Dunfield 55), Torsten Frings, Ryan Johnson (Eric Avila 28), Nick Soolsma, Danny Koevermans, Joao Plata (Gianluca Zavarise 74).
Substitutes Not Used: Doneil Henry, Peri Marosevic, Mikael Yourassowsky, Stefan Frei.
New England Revolution — Bobby Shuttleworth, Kevin Alston, Franco Coria, Darrius Barnes, Chris Tierney, Monsef Zerka (Kenny Mansally 85), Benny Feilhaber, Shalrie Joseph, Ryan Guy, Milton Caraglio, Rajko Lekic (Zack Schilawski 73).
Substitutes Not Used: Ryan Cochrane, Kheli Dube, Otto Loewy, Pat Phelan, Tim Murray.
Misconduct Summary:
NE — Chris Tierney (caution; Reckless Foul) 70
NE — Milton Caraglio (caution; Delaying a Restart) 88
NE — Chris Tierney (caution; Delaying a Restart) 94+
NE — Chris Tierney (ejection; Second Caution) 94+
Attendance: 21, 600
Referee: Michael Kennedy
Referee's Assistants: Paul Scott, Adam Garner
4th Official: Geoff Gamble
To follow me on twitter click HERE
Download or stream the 500 Level podcast with co-hosts Aman Dhanoa and Ben Trattner as they discuss news, opinions, and views on Toronto sports from the Upper Deck. Leafs, Raptors, Jays, Argos, TFC – nothing is off limits. It's good to be a fan!
Also available on iTunes
Contact Aman Dhanoa at aman@oyetimes.com
Pictures are courtesy of Oye! Times photographer JP Dhanoa