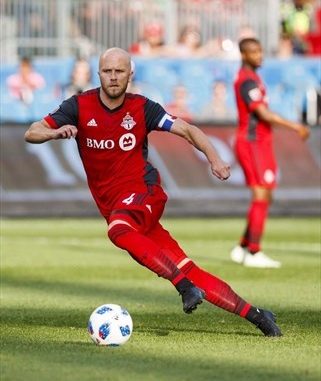 TFC – Michael Bradley 45'+3 (Auro, Nick DeLeon)
TFC – Michael Bradley 62'
PHI – Marco Fabian 73' (PK)
TFC – Nick DeLeon 90'+4 (Jonathan Osorio)
Misconduct Summary
PHI – Fabrice-Jean Picualt 30' (caution)
TFC – Michael Bradley 54' (caution)
PHI – Sergio Santos 81' (caution)
TFC – Jonathan Osorio 83' (caution)
Records
Toronto FC: 1-0-0 3 points
Philadelphia Union: 0-1-0 0 points
Lineups
TORONTO FC – Alex Bono; Laurent Ciman, Drew Moor, Chris Mavinga; Auro, Michael Bradley ©, Marky Delgado, Justin Morrow; Jonathan Osorio, Nick DeLeon (Jay Chapman 90'+4); Jordan Hamilton (Terrence Boyd 74')
Substitutes Not Used: Quentin Westberg, Ashtone Morgan, Eriq Zavaleta, Liam Fraser, Ayo Akinola
PHILADELPHIA – Andre Blake; Raymon Gaddis (Sergio Santos 68'), Jack Elliott, Auston Trusty, Kai Wagner; Ilsinho (David Accam 74'), Haris Medunjanin, Alejandro Bedoya ©, Marco Fabian; Cory Burke, Fabrice-Jean Picault
Substitutes Not Used: Carlos, Warren Creavalle, Mark McKenzie, Olivier Mbaizo, Brenden Aaronson
GREG VANNEY – HEAD COACH, TORONTO FC
On his team starting the season with three points on the road . . .
"It's a fantastic three points. It's very difficult to get points on the road in this league. Guys came in with a strong mentality. They did a great job of defending and protecting our goal and the other way creating chances. It was a mentality win, something we can build on. Obviously, the soccer will get better and continue to grow as we go through a long season. Today was a beautiful win."
On Michael Bradley's contribution today . . .
"Outstanding. He covered a ton of ground, knows when to get forward and when to defend. He was in the right spot at the right time on both occasions. A lot of times he ends up getting stuck deep, but with Marky [Delgado] now back he can release and get himself in goal scoring positions. It's not something we expect of him but he's fully capable."
On where his team gets leadership from . . .
"It starts from the captaincy with [Michael] Bradley, then the other veteran guys, then the next layer of guys with less experience will follow. We have a great mindset and great willingness to compete."
On Michael Bradley scoring his first goal since 2016 . . .
"Yeah I see him getting a couple more, the way we look to play we will give him more freedom to join in. He's smart at recognizing those moments. None of us expected him to get two goals or score at all but thru the course of the season I'm sure he will find some here and there."
On the impact of Nick DeLeon . . .
"A veteran guy who reads situations well, a workhorse and covers so much territory. He has a nice acceleration to find new spaces. For me it was a steal this off‐season and we are happy to have him."
MICHAEL BRADLEY – MIDFIELDER, TORONTO FC
On both of his goals . . .
"Marky Delgado slipped the ball in the pocket and as I went forward I found space to go into. It was not my first thought but once the momentum takes you it puts you in position to score."
On his thoughts on Nick DeLeon . . .
"He has been fantastic since he arrived. I can't think of a better guy he is all about the team. Such a good way in terms of immersing himself to the team and on the field. A very good player who you can use in many ways. He is mobile, a good footballer and I can't say enough about him."
NICK DELEON – MIDFIELDER, TORONTO FC
On the win for his team . . .
"A character win, it definitely was not pretty but we hustled out a result. A character win goes a long way, a big win for us."
On how his team responded following CONCACAF Champions League . . .
"Yeah our second [CONCACAF] Champions League game was a reflection of this game. Our mentality was so much better we build off it. You saw it here in this game, it wasn't the prettiest but we hustled it out."