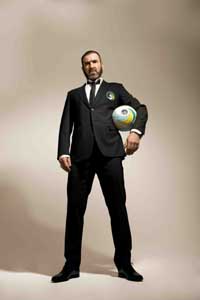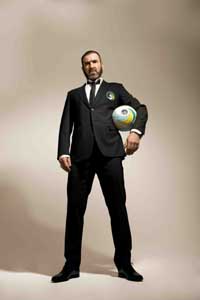 Global Soccer Icon Eric Cantona Makes Groundbreaking Decision to Join the Legendary Club's Revival
As part of the revival of the world's most legendary soccer club, The New York Cosmos today announced that iconic footballer Eric Cantona has been persuaded to come back into the game as Director of Soccer with overall responsibility for all soccer-related matters, which will include the proposed first team.
Despite many attempts by numerous soccer clubs to lure the Manchester United Player of the Century back into the limelight since leaving in 1997 – until now, no one has been successful. Cantona's new role at The New York Cosmos will see him exercising the innovative leadership and cutting-edge creativity that he is known for, towards implementing the club's vision and
philosophy in all areas of soccer operations. This announcement comes on the heels of the recent signing of Cobi Jones as his Associate Director of Soccer and Ambassador. Together, Cantona and Jones will carry forth the club's legacy and integrity while developing and attracting world-class soccer talent from all areas of the globe.
Cantona has been credited with making a substantial contribution during his time at Manchester United (1992-1997), which included four Premier League Championships (1993, 1994, 1996, 1997). Today, Manchester United is the most valuable club in the world (Forbes, April 2010).
Throughout Cantona's 14 years as a professional, he played in France for Auxerre, Marseille, Bordeaux, Montpellier and Nimes. He later went to England to play one season for Leeds United – winning a Championship during the 1991-1992 season – before joining Manchester United, where he would spend the rest of his career until retiring in 1997.
"Three years ago, when I first had the idea of reviving The New York Cosmos, I couldn't have dreamt that we'd be able to attract an icon the likes of Eric Cantona," says Paul Kemsley, Chairman of The New York Cosmos. "It's a personal thrill for me, as he was one of my heroes during the 1990's and is a further endorsement to the tremendous global attraction and power that The New York Cosmos carries. Our name already resonates throughout the world and so will our football team."
Says Eric Cantona, "I am very honored to join the legendary club New York Cosmos. It's a big project, a wonderful project. The Cosmos are very strong, beautifully made, with a great past. It's kind of a mix between football and art. I will do everything that I can to help us first find our way to regain the #1 position in the United States, and then for us to become one of the best clubs in the world over the coming years."