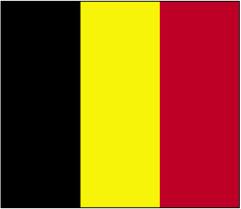 Belgium is a rather small European nation located along the coast of the North Sea snuggled between France, the Netherlands and Germany. It is a member of the EU, the OECD and NATO and was part of the Netherlands until it achieved independence in 1830. In fact, Belgium is the home of the headquarters of the European Union. There has been longstanding domestic tensions between the 6.6 million Flemish who speak Dutch and live in the north part of Belgium and the 4.1 million Walloons who speak French and live in the southern part of Belgium which has led to the granting of political autonomy to the Flanders and Wallonia regions. Here is a map showing the division of the country into its autonomous regions:
Right now, one of the most interesting issues facing Belgium is their lack of a government, a libertarian's dream come true. That's right, since the election on June 13th, 2010, Belgium has been without a government and yet, despite the ongoing issues facing the Eurozone, its economy is still moving along. There have been intractable divisions between Belgium's Dutch and French speaking populations (as noted above) and this division has lead to 45 different governments in the past 67 years. Negotiations to form a coalition government have failed at every turn; a caretaker government is in the process of drawing up a budget which has been delayed at least once. Lacking a government, however, has meant that Belgium's population has not yet had to face the austerity measures that many of its fellow Member States have been wrestling with, measures that have led to social unrest in several Eurozone nations.
Belgium is a highly industrialized nation that depends heavily on trade with the rest of the world for its economic growth. It has a highly trained workforce that is active in the steel, textile, food processing, pharmaceutical, automotive, electronic, textile and refining industries. As a nation that has only a very modest amount of coal as a natural resource, it relies heavily on imported sources of energy making its economy vulnerable to energy price shocks.
The debt-to-GDP reached its highest point in 1993 when it hit 134.1 percent; this was accompanied by a 1992 budget deficit that reached 7.1 percent of GDP. The growth in debt was in large part due to mismanagement by the Belgian government which reacted to the oil price shocks of the 1970s by expanding the public sector and subsidizing inefficient and uncompetitive domestic industries. Fortunately, at that time the government was able to tap domestic savings of its citizens which mitigated the negative effects of the high debt on the economy. As you can see on the graph, between 1993 and 2007, the Belgian government managed to rein in its deficit spending, reducing it to 0.2 percent of GDP in 2001, well below the EU target of 3 percent. Things started to go off the track with the advent of the Great Recession in 2008. Since then, Belgium's debt-to-GDP has risen from a low of 84.2 percent in 2007 to 96.6 percent in 2010. Should the world's economy contract this year and next, Belgium's debt-to-GDP ratio is likely to rise above 100 percent once again and may rise into the danger zone. Using my favourite metric, debt per capita, Belgium comes in at €32,014. By comparison, Germany's debt rings in at €13,800, Spain's at €12,004 and Italy's at €30,201. While most economists use a debt-to-GDP metric as a measure of fiscal health, I find the per capita debt to be a more relatable number. In any case, Belgium does not come off particularly well with either metric.
Here is a bar graph showing the projected GDP growth rate for all countries in the European Union plus several others as above for 2012:
Note that Belgium's projected growth is above the Eurozone average in both 2011 and 2012 but well below many of its fellow Member States.
While Belgium's nominal debt and debt-to-GDP levels appear to be manageable should Europe's economy not contract, its debt level is rather large when looked at on a per capita and debt-to-GDP framework. Belgium's debt-to-GDP level is already very close to 100 percent, well above the median in the Eurozone, and shows only the faintest signs of slowing growth. Belgium's lack of a government has meant that it has not yet enacted the austerity measures necessary to control future debt growth and deficit spending, a task that will have to be undertaken very soon, especially if the world slips into yet another economic contraction and Belgium wishes to retain its creditworthiness in the eyes of the world's bond traders. As well, should Belgium's housing market experience a correction as has been experienced in many of its Eurozone neighbours, economic projections for fiscal balance will be tossed out the window.
Article viewed on Oye! Times at www.oyetimes.com
To view more of Glen Asher's blogs, click HERE