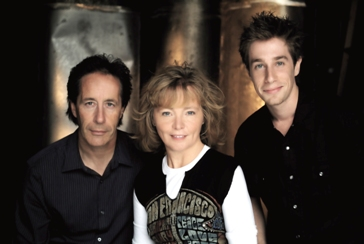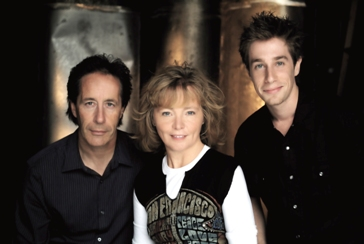 Pop/rock group THE WILKINS are set to dazzle the NXNE crowd with their stunning harmonies and catchy songs at Toronto 's latest hip, West end venue The Painted Lady, 218 Ossington Ave. For more information on this event and NXNE please visit www.nxne.com
It's a family affair as veteran rocker Mark Wilkins (of Photograph fame), folk musician and wife Jan Wilkins and their son Julian blend timeless elements of acoustic folk, pop, rock and a touch of Celtic music on their stunning debut album, No Expiry Date.
The group, taking the family name The Wilkins, is the culmination of three very musical individuals who, along with their talent for creating magical three-part harmonies, (the chemistry between family members is undeniable), each bring something unique to the table. Not to mention, they also know how to write a good song.
At the helm is Mark Wilkins, known among the rock and roll scene for his past involvement in the Ontario group Photograph, which was discovered by Tom Cochrane of Red Rider. The band signed to Capitol Records, producing such hits as "Last Dance" and "Blow Away." Photograph toured with numerous national acts including April Wine and Blue Rodeo, and worked with the now legendary U2 producer Daniel Lanois. Jan, having sung with choirs and folk groups from across the country, teamed up with Mark to release the album Seasons. The collaboration would later extend to include their pianist son Julian, thus becoming The Wilkins.
It is no mistake the Ontario Independent Music Awards nominated The Wilkins one of the best folk artists of 2008. No Expiry Date showcases their unique variety of musical styles. The high-spirited, lyrically clever "Love is Gone," which began life some years ago as a country song Mark wrote, transforms easily to a beautifully harmonic acoustic stomp with a hint of Celtic flavour. "Love is Gone" is featured on the Busta Compilation CD released in Italy, by Midfinger Records (October 2008), and is also featured on the GOA Chillout Zone Compilation CD released in India (December 2008) by W.O.A. International Records.
The lively, up-tempo pop/rocker "You Can't Tell Me" features poignant yet hopeful lyrics that were inspired by the harsh realities of Mark's father trying to maintain his dignity in the face of progressive aphasia. The memory and spirit of Jan's father is evoked on the lush, piano-driven ballad "Just a Memory," inspired by moments from her childhood when she and her family would gather and sing around the pump organ. "Whatever You Want," which begins with a haunting orchestral introduction written and scored by Julian, becomes a powerful, rockin' pop tune reflecting on how eager we are to blindly believe whatever the mainstream media tells us.
2008/ 2009 Highlights for the Wilkins
– "Couldn't Do Better" is featured on the Compilation CD Sounds Like Café Volume 23 released in Australia, September 2008 by Foghorn Records.
– Semi-finalist awarded from the UK Songwriting Contest to Mark Wilkins and Debra Campbell for "Apologies Unspoken"
– "Love is Gone" is featured on the Goa Chillout Zone Vol.2 compilation CD released in India 2008
– Signed with WOA RECORDS to play in the W.O.A Records India Tour 2009
For their NXNE performance The Wilkins feature Mark Wilkins (bass, guitars, lead vocals), Jan Wilkins (acoustic guitar, lead vocals), Julian Wilkins (piano, synths, lead vocals), Mike Rose (bass guitar), Geoff Hales (lead guitar), and Duncan Holt (drums and percussion).
WHO: THE WILKINS
WHAT: NXNE concert
WHERE: The Painted Lady, 218 Ossington Ave. Toronto
WHEN: Thursday, June 18 @ 9:00 pm
TICKETS: Free w/ NXNE pass or wristband. For more info http://nxne.com/tickets
WEBSITES: www.thewilkins.ca / www.nxne.com