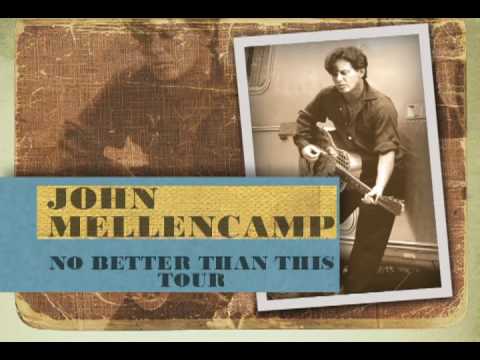 "No Better Than This" tour will hit 16 sites from BC to Newfoundland with Summerside, Moncton, Dartmouth, Sydney and St. John's in Atlantic Canada
http://www.youtube.com/watch?v=tqCciRJEAm0

American rock and roll star John (Cougar) Mellencamp has booked the "
No Better Than This
" across Canada tour this summer, starting in Penticton BC on June 14th.
This tour may be the sleeper concert of the summer. Bigger acts in bigger cities will draw larger audiences but Mellencamp and The Cowboy Junkies will move your soul in a good direction.


Tickets go on sale
March 28th, 2012
for all locations. Prices are rumored to be $50 to $80 per seat with special premium tickets available for those with jewellery to jangle.

Mellencamp
, who hails from small town Indiana, has recorded more than 30 rock and roll hits during his almost 40 year career, such as "Jack and Diane", "Pink Houses", and "Hurts So Good."
His concerts are events to be remembered. Mellencamp and his band put tremendous musical and emotional energy into their performances.
I saw Mellencamp perform in 1987 at Maple Leaf Gardens in Toronto. The show was electrifying despite being at the far end of the Gardens, high in the cheap seats. I can still remember "Check It Out."
http://www.youtube.com/watch?v=8qxDBiiVjlQ

John Mellencamp – "Check It Out"
Mellencamp is tireless champion of working class people and advocates regularly on social causes. He was one of the founding musicians in Farm Aid, along with Willie Nelson and Neil Young.
http://www.youtube.com/watch?v=B5OtONQ4WX4

"Pink Houses" from Farm Aid 2011
While Mellencamp is a rock and roll musician, he has a strong affinity with folk and country music which of course reflects his mid-western rural roots. He has performed at concerts and on recordings in memory of American folk and protest singer Woody Guthrie. His arrangements include fiddle, accordion, mandolin and alternate percussion along with the usual rock and roll accompaniment.

The tour will play five sites in Atlantic Canada starting with
Summerside, PEI
on June 30th ending in St. John's Newfoundland before switching back to Oshawa Ontario.

The Cowboy Junkies
Joining Mellencamp on the tour will be Canada' popular alt-rock-country band
The Cowboy Junkies.
Hearing the dreamy and exquisite Margo Timmins live will be worth the price of admission.
http://www.youtube.com/watch?v=2g3A7wULfH0
Cowboy Junkies – "Misguided Angels"

Cowboy Junkies
had their early success with a cover of "Sweet Jane" and two CD's "The Trinity Sessions" and "Caution Horses." The band has maintained cult status in Canada and Europe and continues to record and tour regularly.
Cowboy Junkies are on the mellow side of rock but there is no other voice like Margo Timmins. She has is an iridescent stage presence. She adds something special to any song she touches. Listen as she backs Tom Wilson, of Blackie and the Rodeo Kings, on "
I'm Going To Stay That Way"
("Resident Evil" CD) and steals the show.
Stewart Copeland
of Police said "Although my musical tastes run to the "heavier" side the Junkies really have a calming effect on me. My wife jokes about when I hear Margo's voice, I go into a trance and she wishes her voice could get me that focused. If you have not checked this band out, you should. But be warned, VERY MELLOW. Lou Reed has commented that he likes the Junkies version of Sweet Jane better than his own."
By Stephen Pate, NJN Network