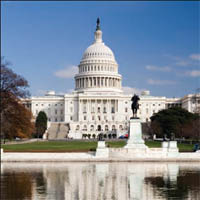 Detectives from the Metropolitan Police Department's Major Crash Unit are investigating a two vehicle crash that resulted in two fatalities. On Wednesday, March 9, 2011, at approximately 10:40 PM, a 2000 Buick LeSabre, with five occupants was traveling south bound in the 2800 block of South Capitol Street, Southeast, when it crossed over into the north bound lanes and collided with a Chevrolet Malibu traveling north.
Officers from the Seventh Police District and personnel from the DC Fire Department and Emergency Medical Services responded to the scene. The crash caused severe damage to both vehicles, and required the extrication of some of the occupants of the Buick.
As a result of the crash, two occupants of the Buick were subsequently pronounced dead. The decedents have been identified as 28-year-old Marceline Kashern Settles of the 3000 block of Stanton Road, SE and 25-year-old Antawone Brown of the 2600 block of Wade Road, SE.
The other three occupants of the Buick were transported to area hospitals for treatment of a range of injuries and remain hospitalized. The driver of the Chevrolet was transported to a local hospital and was treated and released.
Further investigation into the collision revealed that the driver of the Buick, identified as 30-year-old Wendy Cynthia Young, of Southeast, DC, was under the influence at the time of the collision. Consequently, Ms. Young was placed under arrest and charged with two counts of negligent homicide.