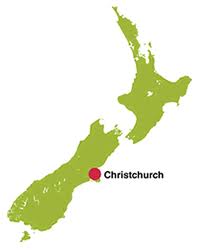 Christchurch was rocked by a 6.3 magnitude earthquake on Tuesday, February 22, 2011 at approximately 12:51pm local time. The epicentre of the seismic event was five kilometres (three miles) from the city at a depth of four kilometres. 15 minutes later, a 5.6 aftershock struck. The airport was closed and the evacuation of the city centre including the hospital was being carried out by police.
The New Zealand Herald is reporting that Prime Minister John Key has told reporters that the death toll from today's magnitude 6.3 earthquake stands at 65, and Christchurch Mayor Bob Parker said it could quite possibly double. There are possibly 200 people still trapped in damaged buildings. There were 180 police on the ground, a further 200 were on the way and 350 military were already in Christchurch with another 250 to arrive soon. The Government had accepted offers of specialist help from Australia and US. Click here to see the Herald's pictures.
This past September 4, the city had suffered a 7.0 magnitude quake, the most damaging to hit the region since 1931. This had already weakened the frontages of some buildings and as a consequence, several collapsed onto the streets and witnesses have said people are trapped inside. Rubble buried cars while roads buckled and ruptures opened in the ground. The quake knocked out power in the city and broken water pipes flooding some streets.
http://www.youtube.com/watch?v=KetOf15Q3lc
The 106-year-old Cathedral of the Blessed Sacrament was badly damaged by the tremors and it is reported half the building had collapsed and the church spire has toppled. According to reports, this church and the Roman Catholic Cathedral of the Blessed Sacrament were undergoing repairs after being badly damaged by the September quake.
Christchurch has a population of approximately 390,000. It is located near the centre of the east coast of the South island.
In the latest, News.Com.au is reporting that a curfew has been imposed in the city from 7pm to 7am as authorities battle to restore water, power and phone services in the devastated city.
6.3 quake rocks New Zealand city; fatalities reported – Feb 22/2011
http://www.youtube.com/watch?v=4ezDOsxj0Yk
References
Wikipedia: Christchurch
http://en.wikipedia.org/wiki/Christchurch
Click HERE to read more from William Belle
Article viewed at: Oye! Times at www.oyetimes.com