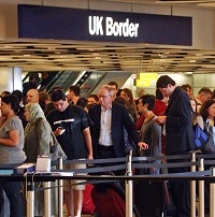 According to Stansted Airport bosses, the long immigration queues at the beginning of the Bank Holiday weekend are a fact that is an unacceptable part of the travel.
Similarly, hundreds of displeased passengers had waited up to two hours at passport control at the Essex airport on Thursday evening. The airport authorities are of the view that this was not a rare thing to happen, and queues at immigration were an "ongoing problem". However the issue had to be addressed urgently as soon as it emerges.
The spokesman from the Stansted Airport has stated: "The majority of passengers arriving at Stansted pass through border controls quickly and securely. However, at peak times, and similar to many other UK airports, immigration queues can be unacceptably long. We recognise that maintaining strong border security is a priority but we also want to see sufficient resources available to meet passenger demand and keep delays to a minimum at the busiest times. Our customer service teams work closely with the U.K. Border Force to help manage queues and assist passengers at peak times but we believe further action is needed to address the issue as a matter of urgency."
A female passenger has reported that she waited for two hours at passport control. Another has told that after a flight from Cork she waited so long they were put into another area. Many of the passengers have expressed their frustrations through posting on social networking sites like Twitter.
Home Secretary, Theresa has said that the Stansted issue would be considered, but Heathrow Airport was the "key" focus and the other issues will be dealt with later. The additional staff was being redeployed to ensure checkpoints were manned when needed.
The U.K. Border Force spokesperson has stated that it has deployed staff to meet demand but would not compromise on security.
The Government is getting worried as the row grew over the impact of lengthy queues on the U.K.'s reputation and ability to deal with the 2012 Olympics. Immigration Minister, Damian Green has accepted that some passengers had been forced to wait in queues for up to 90 minutes in breach of Border Force targets and assured an action to resolve the issue.
Article viewed on Oye! Times at www.oyetimes.com.