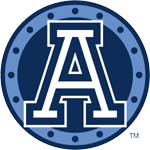 The Toronto Argonauts Football Club announced today that it has released two quarterbacks that were under contract to the team. Kerry Joseph and Cody Pickett were informed by the club that they are free agents and can pursue a position elsewhere.
Commented Argos Head Coach Jim Barker, "After assessing what we required to run our offence in 2010, we felt we needed to go in a different direction at the quarterback position. Kerry and Cody have contributed a lot to this team and we thank them for their past efforts. We understand that it seems bold to release these quarterbacks before announcing the additions of new quarterbacks to the roster but we wanted to make this move immediately so these players could try to catch on with other teams. We have a plan in place and will be making those announcements over the course of the next month."
The club also announced that it has released LB Zeke Moreno.
Barker continued, "We would like to thank Zeke for all of his efforts. Our defence is also heading in a different direction and he was not part of the plan. We wanted to act swiftly to give Zeke a chance to find another opportunity."