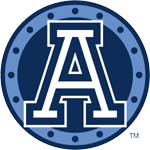 The Toronto Argonauts Football Club is counting down the days until kickoff. With less than two weeks until the first pre-season game on June 13, the Argos have retooled their team on the field and are hard at work off the field to bring a new and even more intense game day experience to fans.
With a heightened focus on the game of football, Argos game days will now feature even more replays on the videoboard, as well as a new stats board and interactive depth chart to keep fans in the know. Videos featuring player profiles, alumni memories and behind the scenes footage will connect Double Blue supporters to the men under the helmets.
CP24's Nathan Downer is back with the Toronto Argonauts for his second season as the team's in-stadium announcer. Downer, a Toronto native who is also very committed to helping the Argos' community work, will be heard calling the plays and making announcements for Argos fans at every home game as the in-stadium "Voice of the Argos". The Argonauts are also excited to continue their partnership with CP24, a station with values similar to the Argos – locally focused, engaged and passionate. New in 2010, Downer will be seen at halftime interviewing Argos General Manager/VP, Football Operations, Adam Rita to get his thoughts on the game in progress.
Television host Mark Strong joins the Argos as the new in-stadium host. Best known for his work on NBA XL and as the voice of the Juno Awards on CTV, GTA native Strong brings with him sports knowledge and athleticism that Argos fans will gravitate to. Accessible and fun, the man known as "Strizzy" will amplify the new in-game promotions featuring football-related challenges and trivia to keep Argos faithful in the huddle.
Commented Strong, ""Being an Argos fan since the days of Rocket and Pinball, I'm so hyped to be part of the energy the Argos bring to the city. I'm looking forward to bringing the hype from the fans in the stands to boost ours boys' season on the field."
Also joining the Argos for 2010 is Flow 93.5 personality Scott Boogie who becomes the official DJ of the Toronto Argonauts. A popular club DJ with over 15 years under his belt, Scott couples excitement and the ability to get crowds going with his passion for football. Scott will provide the music in-game and during the fan-friendly See You On the Field post-game autograph session which will return for several games this season.
Boogie enthused, "I'm excited to be part of one of the greatest sports franchises in the world. I've watched for a long time and some of my favourite childhood memories are going to Argos games at Exhibition Stadium with my dad. Now I can actually be a part of the game day experience. I'm honoured. Let's go Argos!"
Argos' President and CEO Bob Nicholson remarked, "We at the Argos strive to deliver our fans the best entertainment value in professional sports in the city. This season will be all about football, with more replays, statistics and information about the team on the field. We are thrilled to welcome back Nathan Downer and bring in Mark Strong and Scott Boogie to heighten our game day intensity. All three of these gentlemen are local and passionate, just like the Double Blue."
With even more affordable ticket prices in the Silver and Bronze sections, as well as tickets in the newly-created Blue section for as low as $20 per game, here are the 2010 ticket prices for individual games:
Platinum $79.00
Gold $69.00
Silver $49.00
Bronze $29.00
Blue $20.00
Prices include all taxes. Ticketmaster service charges and the Rogers Centre Facility Fee are not included