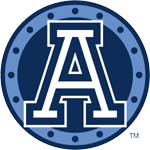 The Toronto Argonauts Football Club has traded OL Brian Ramsay to the Hamilton Tiger-Cats in exchange for a 4th round pick in the 2011 CFL Canadian Draft and a conditional pick in the 2013 CFL Canadian Draft.
Brian Ramsay was drafted by the Argonauts in the fifth round (39th overall) of the 2006 CFL Canadian Draft. He played the 2006 season at New Mexico University and then joined the Argos as a rookie in 2007. Over three seasons, he dressed in 51 games on the offensive line and made 34 starts – all at right tackle. The Victoria, B.C. native started the first 15 games of 2009 at right tackle for the Double Blue before suffering a season-ending knee injury during week 15 play against Edmonton.
Additionally, the Toronto Argonauts Football Club has released the following players:
DB Josh Abrams Import
QB Danny Brannagan Non-Import
WR Keith Godding Non-Import
DE Ben Ishola Import
LB Leon Joe Import
DB Evan McCollough Import
FB Peter Quinney Non-Import
RB/SB Steven Turner Non-Import
As per CFL regulations, players will be eligible for practice roster agreements on Friday, June 25 at 4:00 p.m. ET.