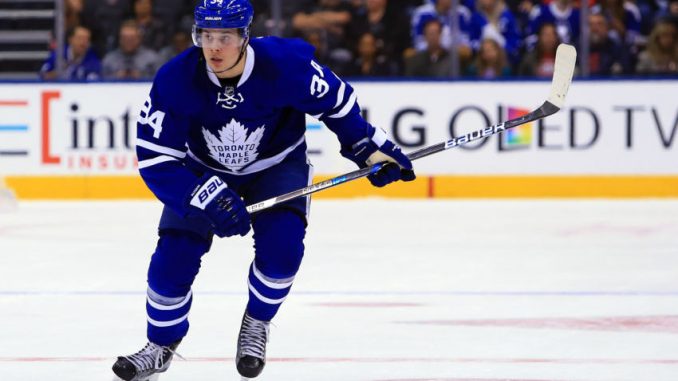 Toronto Maple Leafs lose heartbreaker to Washington Capitals 2-1 in OT. Here is the summary for the game played on Friday, April 21, 2017
| | | | | | |
| --- | --- | --- | --- | --- | --- |
| | 1 | 2 | 3 | OT | FINAL |
| TORONTO | 0 | 1 | 0 | 0 | 1 |
| WASHINGTON | 1 | 0 | 0 | 1 | 2 |
GAME SUMMARY | EVENT SUMMARY | FACEOFF SUMMARY

ON THE SCORESHEET
Auston Matthews put Toronto on the board with a goal at 6:00 of the second period. Matthews has goals (3) in three consecutive games.
William Nylander registered the primary assist on Matthews' second period goal. Nylander has points (1-3-4) in three consecutive games.
Zach Hyman also registered an assist on Matthews' goal in the second period. Hyman has points (1-2-3) in three consecutive games.
Frederik Andersen stopped 26 shots in the overtime loss.
SHOTS FIRED
The Capitals had a 28-25 edge in shots in all situations and a 22-21 edge in shots at 5-on-5.
Toronto had a 63-58 lead in shot attempts in all situations and a 50-48 lead in shot attempts at 5-on-5.
James van Riemsdyk each registered five shots on goal.
William Nylander registered a team-high 10 shot attempts.
OF NOTE…
At 16:21 of the first period in tonight's game, video review confirmed that Evgeny Kuznetsov's shot did not cross the Toronto goal line. No goal Washington.
Toronto is 57-55-4 all-time in playoff overtimes and 20-23-0 in playoff overtimes on the road.
With tonight's game going to overtime, the Maple Leafs have played four overtimes in one playoff series for the first time since the 1951 Stanley Cup final vs. Montreal. Toronto won that best-of-seven 4-1.
The Maple Leafs are 6-15 all-time in best-of-seven playoff series when trailing 3-2 through five games.
The Maple Leafs were 2-for-3 on the penalty kill and 0-for-4 on the power play in tonight's game.
Leo Komarov won 80 percent (4 won, 1 lost) of his defensive zone faceoffs.
Morgan Rielly was on the ice for a team-high 25 Maple Leafs shot attempts at 5-on-5 in tonight's game. Rielly had a 5-on-5 shot attempt percentage of 56.8 percent (25 for, 19 against).
MAPLE LEAFS LEADERS
| | |
| --- | --- |
| Faceoff Wins | 9 (Bozak) |
| Faceoff Win Percentage | 100% (Nylander) |
| Hits | 5 (Martin) |
| Blocked Shots | 2 (Carrick, Hunwick, Zaitsev) |
| Takeaways | 3 (Nylander) |
| TOI | 25:32 (Gardiner) |
| Power Play TOI | 4:53 (Matthews) |
| Shorthanded TOI | 4:38 (Marincin) |
| Shifts | 37 (Rielly) |
| 5-on-5 Shot Attempt Percentage | 65.0% (van Riemsdyk – 13 for, 7 against) |
UPCOMING GAMES:
Sunday, April 23 vs. Washington Capitals, 7:00 p.m. (Sportsnet, FAN 590)
Tuesday, April 25 at Washington Capitals, TBD*
*If Necessary
POSTGAME QUOTES:
HEAD COACH MIKE BABCOCK
On leaving with a loss after a solid road performance:
It's disappointing. I thought we had a real good first, they got – I think the shots were 5-5 at some point – and they got on the power play for back-to-back power plays and they scored on the one. We didn't have as much pressure as we should and got a little too high. I thought we had a real good second and I thought we had a real good opportunity in the second and skated good. I thought the third was pretty even. It was one of those plays where, coming back into our own zone, we have enough people there, we didn't sort it out right. You hate to give up the freebie but the bottom line is we've got to go home and win a game now because we want to be right here in overtime in game seven. I think it's a good series, it's a lot of fun and so let's just keep enjoying ourselves. Let's go into Toronto and play right. Let's not get all wound up by our crowd and try to wow them. Let's just come out and play and take care of the puck.
On why the power play has struggled:
Well, not winning any faceoffs and our entries haven't been very good. Tonight – I didn't mind our power play during the playoffs thus far, I didn't think tonight was very good at all. We'll have to go back to the drawing board. They've done a good job on that and then obviously, they've got in our head a little bit there because we're not coming with the same kind of pace we normally do on entries. We're going to have to win some faceoffs and some battles and compete in that area because any way you look at it, our special teams have been real good in some ways, but it cost us tonight.
On Kadri's hit on Ovechkin:
I thought – it's interesting, Trotzy probably thought it should have been a major and I thought there should have been no penalty. That's the beauty of the playoffs. The other night when Polak is done for the year, our bench thought it should have been a major and they thought it should have been no penalty. That's kind of the playoffs. You try to get somewhat in-between is probably more reasonable than a coach.
On if he'd like to see a similar performance in game six:
Yeah, but I'd like us to continue to skate and get after them is what I'd to see a little bit more of and take care of the puck. At home, we haven't taken care of the puck as good. We have to take care of the puck and we've just got to play a simple game where it's all team-first.
On if Matthews' line is getting better each game:
I think that line right there, Naz's line, I thought Boyle's line – we've got to get [Bozak]'s line, they've got to take a step here for us, for sure. He's a good player, they're all good players on that line. There's not a lot of room and you've got to compete. The way Hyman is at the net and how strong he is, Willy can shoot it and pass it and skate. It's a good line.
On if he thought van Riemsdyk could have won the game earlier:
Well obviously, he's a good player and he's in home-free, but [van Riemsdyk] scores, give him credit. When he gets his chances he usually finishes. It didn't go in for him, that's all.
On what he wants the players to think ahead of next game:
Just get on playing. Have a meal, relax. We played good, don't worry about it too much. Let's have a day tomorrow, get recharged and play good at home. I keep saying this to you and I don't know if you quite believe it – you can't have any more fun than this. These games are good. We've been in overtime four times, it's a good competitive series, we believe we still have a chance to win. That's what we're going to do.
FREDERIK ANDERSEN
On the game-winning goal:
I think he kind of got lost in it between a couple of guys, I don't know who was supposed to have him but, I don't know. It was a bang-bang play but it was a tough one. I thought we played really good. Tough way to end it but we'll get energized again tomorrow and come at it.
On if it's tough to lose such a close game:
Of course, like I said, I thought we played really well. We stepped up from the last game and didn't get rewarded. That's how the playoffs are. We've got to keep with it and stay positive because we've got to go into the next one.
On his save on Kuznetsov that was reviewed by the officials:
He got a good pass from down low and I just tried to get a glove on it.
JAKE GARDINER
On tonight's game:
I thought we played well tonight and so did they. It was a good battle and it just went their way tonight. We've just got to regroup tomorrow and come back on Sunday.
On handling Washington's physicality:
They're a physical team, we've just got to be ready for it. That's just part of their game.
On the difficulty of losing an overtime game:
It's never easy to lose, especially – overtime games are tough. We played well but that being said we've got to forget about it now and just move on.
On the difference between the teams
Both goaltenders are really hot, especially tonight. We had some chances to score and didn't capitalize. I thought that was a big thing. Obviously, they capitalized at the end of it.
MATT HUNWICK
On moving past tonight's loss:
I think we played a pretty good game so we'll forget about it, we'll go out and we'll prepare for game six.
On the game-winning goal:
It was a dump; I think it made it to the corner or right behind the net and then it was kind of a bang-bang play from behind the net. I think it was Kuznetsov on the goal line to the slot. I think we can play that better.
On if it's still anybody's series:
I think we played well enough to win that game tonight. We're not going to dwell on it, we're going to get ready for game six and put all of our effort into that.
On how close the teams are this series:
I think the scores indicate it – four overtimes, not a lot to choose. I think their power play has been good but 5-on-5 I think we feel pretty confident in our game.
NAZEM KADRI
On battling to generate offence:
We were just struggling a little bit with our entries. They were throwing a couple of different looks at us as far as how they were forechecking. We've got to tighten up on the entries.
On moving past tonight's loss:
Just build off the positives. We understand that we played a pretty good road game and somehow they just found a way. That's what good teams do. We've got to respond heading back to Toronto.
On agitating opponents:
That's my job. I just try to frustrate them as much as possible and that seemed like it was working for a bit.
On his first period hit on Ovechkin:
I thought he got rid of the puck and I just tried to get piece of him and he tried to get out of the way. It's not like I stuck my knee out or got my arms high or anything like that. It happened pretty quick. From what I saw it was okay.
On what he was thinking when Ovechkin was down on the ice:
I'm hoping he's okay. Obviously, it's a pretty tender area so that could be extensive. You don't want that to be an extended injury. I'm glad he came back. He was running around a little bit when he came back so he must have been fine.
On if they need a road-style game in game six to force a game seven:
Absolutely. We're confident coming into this building and understanding that we can get a win. We've got to play the same way and, as you can see out there, there wasn't a whole lot going on without the entire ice essentially being clogged up. That's how the series is going to be and we've got to find a way to pull off two wins here.
AUSTON MATTHEWS
On the game-winning goal:
They did a pretty good job getting it in deep and they had some good speed. I think it was just a little bit of a miscommunication and they had the guy all alone in the slot and it's a pretty good player there. It could have been anybody's game tonight. I thought we really bounced back from the previous game, I thought we started much better and played much better from the opening throughout the whole sequence.
On how to improve the power play
I think we need to keep things a little bit more simple, just get pucks to the net. They do a pretty good job of staying four guys tight and we've just got to outnumber them at the net and try to get second chance opportunities.
On if it's difficult to leave with a loss tonight:
Of course, but I don't think we're hanging our heads on this. We played a pretty solid game tonight and we're going back home in a must-win. I think we take away some positives from this game and move on to the next one here.