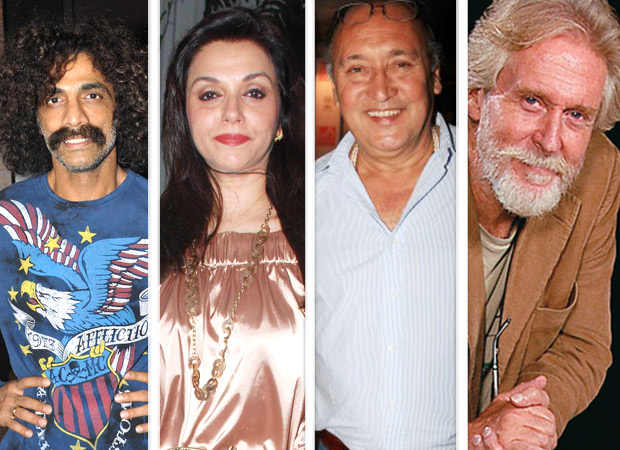 Makarand Despande:
"I feel Tom is like Luigi Pirandello's Henry IV, an actor who fell from the horse and remained Henry for rest of his life. Tom for me fell into being a good man, a great soul who just not only played this difficult part all his life with courage and simplicity but dissolved his existence like sugar in water. I loved him always, and will continue doing so as he will be around in the form of goodness. Thank you Tom for speaking to me and sharing sports, arts and language."
Lilette Dubey: "A lovely, kind, gentle man.. A passionate theatre enthusiast, an utterly natural actor, with an incredible command over diction in several languages, an American with the soul of an Indian. They don't make many like him anymore."
Victor Bannerjee:
"We worked together in my very first film Satyajit Ray's only Hindi films
Shatranj Ke Khiladi
. For years there was a comedy of errors amongst cinegoers who were about confused our parts and I often received accolades for his role, and he for mine. I now live in Mussoorie close to where Tom grew up and shall miss his presence in the Doon Valley. His memorial service will be held at St Paul's Church in Landour and it'll be a sad day for me and several friends and relatives on the hillside."
Shernaz Patel: "I've lost a dear friend. We worked together in plays like Larins Sahib and Arms & The Man in the past. Then for many years we didn't connect at all. All of a sudden in May this year we shot together for a short film, Bhargava Saikia's The Black Cat in Bhimtal near Nainital. It re-connected us again. The loss is therefore much more intense. The Black Cat is based on Ruskin Bond's short story and Tom who is a very dear friend of Ruskin Bond, played Ruskin Bond while I played an evil witch. If he was at all unwell in May he gave no indication of it at all. Tom was his usual cheerful helpful kind and generous self. …I knew Tom from the time he worked with Motley, the theatre group spearheaded by my friends Nasreeruddin Shah, Banjam Gilani and of course Tom….Tom was always a learned theatre enthusiast and a lot of other things. His interest was not only in cinema and theatre. He was a huge cricket enthusiast and also lately the head of the acting department at the FTII. And he spoke such fluent Urdu! Imagine an Englishman with such a great command over the Urdu language. While we were shooting the short film in May he would keep reciting the Urdu couplets that flowed out of him effortlessly. I had to ask him to translate many of them for me (laughs)…It angers me that Tom had to go so quickly. He had so much to do and he was so useful to so many different sections of people. And he was so sporty and healthy. He lived a disciplined healthy life and had no vices. Why did he have to go so painfully?"
Click HERE to read more and view the original source of this article.

Loading ...