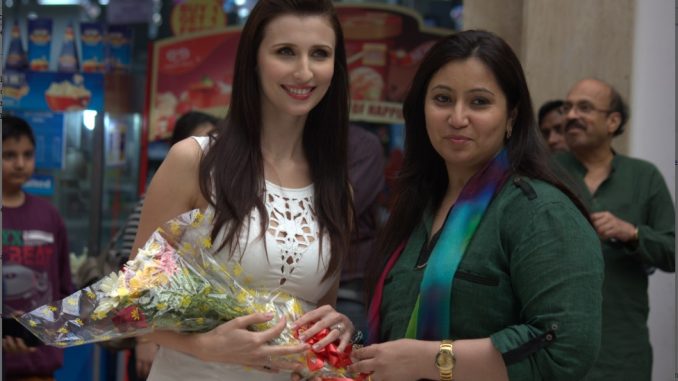 You can publish this article on your website as long as you provide a link back to this page.
This article was last updated on April 16, 2022

'Perfect Miss Mumbai' is a unique platform for the girls 18 years of age and above to start and dazzle in the glamour industry. Germany-born actress Claudia Ciesla of Bigg Boss fame, along with child artist Ahsaas Channa, organizer Gurubhai Thakkar and Khooshi Thakkar took auditions for girls, who came to take part in the beauty pageant. The pre-finale round of Perfect Miss Mumbai 2014 started with the contenders introducing themselves. They briefly spoke about their aspirations, hobbies and background.
Sharing her experience of judging the contestants, the gorgeous actress said,"It was wonderful experience, I am very very glad and happy being part of Perfect Miss Mumbai-2014. We judged the pre-finale round. All the participants are doing amazing job. Most of the models are novice, yet they carried themselves with confidence and perfectly used their body language. They are very confident and there personality is coming really very well on stage."

Talking about the three qualities a Perfect Miss Mumbai should posses, the Balma Girl said, "First one is good body language, expression and most important is confidence."
Giving her two cents to the participants, the oomphy babe said, "Work harder on dreams, because you come here for your dreams. They are already good but they can be more perfect. They need much more to polish themselves. Finale is on 27th April, so they have around two months to work on their body language, expressions."
"Most of the contestants are up-and-coming models; this platform will be a learning experience for them. Gurubhai and Khooshi Thakkar are looking for a girl with a right attitude towards the life and must carry herself with a lot of confidence. The winner of PMM-2014 contest will bag many accolades, being the cover girl of 'Perfect Woman Magazine' is one of it," said K Himaanshu Shukla, who is part of Perfect Woman magazine.