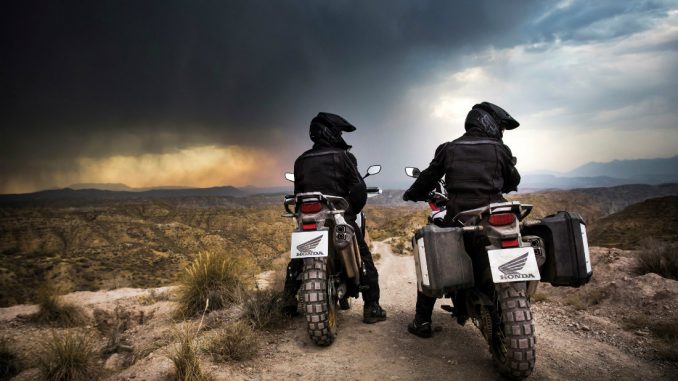 You can publish this article on your website as long as you provide a link back to this page.
This article was last updated on April 16, 2022

There is no greater expression of freedom and exploration than to take up adventure touring on two wheels. So when the brand most trusted for engineering superiority and proven reliability build a completely off-road capable touring motorcycle and price it at $13,999, we can't help but sit up and take notice.
For 2016, Honda brings us the highly anticipated CRF1000L, the motorcycle better known as the Africa Twin.
The legend reborn
Enthusiasts will recognize Africa Twin as the Honda nameplate that won multiple Paris-Dakar championships in the late eighties and much of the nineties. Honda gives new life to the iconic badge with an entirely new machine that is every bit as competent as it is modern.
While the original bikes were V-Twin machines, the 2016 Africa Twin features a parallel twin motor. The design allows for heavier components to be moved rearward and aids in mass centralization.
Unlike the 650 – 750 cc machines of the past, the new Africa Twin features a 1,000 cc motor. A motor which is designed and tuned to balance off-road performance with touring capability. Although controversial, Honda has opted for a Unicam engine citing reductions in weight, height and centre of gravity as key reasons. The company also points out that its Unicam use in motocross has been highly successful for the brand.

Computers shift gears better than people
Possibly one of the most controversial points about the 2016 CRF1000L is the introduction of a dual-clutch transmission (DCT) option. While Big Red promises that their DCT is superior to anything used by the competition, many worry that consumers may not be ready to accept a bike with an automatic transmission.
First off, good news, DCT is an option, a $1,000 option, not the standard. Second, from everything Honda's telling us about their DCT, it really is nothing like the competition and should prove absolutely brilliant.
Honda's DCT for this new bike is a showcase of Honda's engineering prowess. Somewhere between sensors that hold a gear or early shift a gear based on incline/decline, throttle position and wheel speed, I'm convinced the transmission's far superior to my own shifting skills, and I haven't even ridden it yet.
Riding a DCT equipped Honda Africa Twin means that technical off-road riding is even easier as the bike takes care of the often cumbersome shifting decisions. For me, this means I can better focus on the trail I'm riding, the terrain around me and how best to navigate it all.

Giving you options
With multiple user selectable drive modes that control shift timing and throttle responsiveness, there's no shortage of options to tailor the riding experience on the new CRF1000L. In addition to a three mode traction control system called Honda Selectable Torque Control (HSTC), DCT bikes also feature a 'G switch'. Using it allows for more aggressive clutch action, often desired on loose gravel surfaces but controlled here completely by a computer.
ABS is standard on all Canadian market bikes, but riders will be able to switch off rear wheel ABS if they wish; an option that is exactly what you need when riding in the dirt.
As most bike owners will often do, the new CRF1000L lends well to being customized with either OEM or aftermarket parts. Although admirably equipped out of the gate, Honda expects that many buyers will opt for customizations at the point of purchase. Heated grips are the first things that come to mind, and are a seemingly obvious option not standard on the new bike.

Oh what value
Honda's 2016 CRF1000L is every bit the engineered for off-road touring machine that adventure dreams are made of. Combining proven engineering with smart packaging, Honda puts those dreams within the reach of many by pricing bikes at $13,999 or $14,999 for DCT models.
Fitted with street tires from the factory, the new Honda Africa Twin is very much the go anywhere machine that can also be your daily rider.
Images courtesy of Honda
For editorial inquiries, Kanishka Sonnadara can be reached at kanishka[at]oyetimes.com