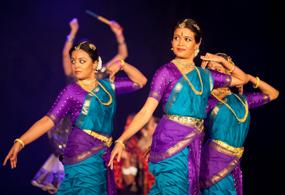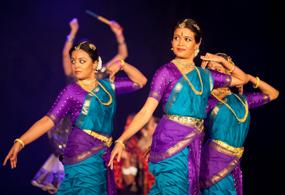 Trillium Health Centre Foundation's 10
th
annual South Asian Festival of Lights fundraiser delights guests with Vision of India theme, raises over $840,000 and inspires the community to donate in honour of a beloved senior

The original and largest Diwali celebration in Canada brought the sights, sounds and tastes of India to over 950 guests at Trillium Health Centre Foundation's 10th annual Trillium Diwali fundraiser on October 14. More than $840,000 was raised at the gala.
"At Diwali we honour our beloved seniors," said Dr. Jaya Chanchlani, Medical Chair for Trillium Diwali 2011. "As the community ages, Trillium's endoscopy needs will increase. There are so many reasons to celebrate Diwali and support the revitalization of Trillium's Endoscopy Suites. Community support will help us reach our $2-million fundraising goal."
Arriving at the transformed International Centre, guests were offered traditional Indian sweets and ushered into a foyer where traditional classical dancers performed around life-sized floral elephants to the sounds of dhol drummers.
Before the four-course traditional Indian dinner, guests browsed amongst a vendor bazaar, watched street magicians, sampled Indian street foods provided by The Host Fine Indian Cuisine and were able to get a modern Mehndi tattoo design, the traditional henna body art of India.
Funds from Trillium Diwali 2011 will be used to enhance Trillium Health Centre's Endoscopy Suites, used to diagnose and treat a variety of diseases. Trillium performed 12,000 endoscopy procedures in the preceding 12 months, making it the busiest facility in Ontario. This is the second year of a three-year campaign to raise $2-million to improve and expand Trillium's Endoscopy Services, so that more life-saving procedures can be performed.
"Endoscopy means to literally 'see inside' the body without the need for large incisions," said Dr. William McMullen, Chief of Endoscopy at Trillium Health Centre. "It is a very effective, minimally-invasive tool for screening patients for a wide variety of conditions including colon cancer. Active screening can reduce colon cancer risk by 90 per cent."
At the event, Mississauga resident Lorne Whittaker talked about how a colonoscopy – which he sought after a relative was diagnosed with colon cancer – found and removed cancerous polyps. He is now living cancer free. "Every day I try to tell one new person about the importance of having a colonoscopy," he said. "Preventive maintenance is the way to go."
Trillium Diwali is supported by a number of generous sponsors, including its Diamond Sponsor – Medtronic of Canada Limited – table sponsors, tickets purchasers, cash donors, gift-in-kind donors, gift-of-service sponsors, contributors of the silent auction and
an anonymous donor who generously donated $110,000 to Trillium and challenged the guests to match his donation, which they did.
For more information or to make a donation in support of Endoscopy Services at Trillium, please visit
www.trilliumdiwali.ca
, call 905-848-7575 or get in touch with the media contacts below.