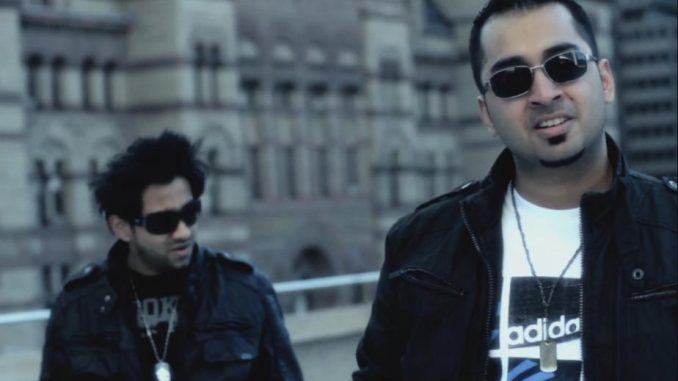 "The Gunsmith & MoHit" is a fresh new South Asian hip-hop group from Toronto, comprised of The Gunsmith (Yuvraj Goel) and MoHit (Mohit Bhatnagar). This rapper/singer team has a unique and cinematic sound that is defined by The Gunsmith's clear and highly technical rapping, and MoHit's soulful and powerful singing. Their music is grand and has infectious rhythms, and their melodies show influences of various world cultures, in particular their homeland India.
A background on the band: both Yuvraj and Mohit work in the engineering profession by day and are University of Waterloo graduates. The two artists met by chance at a singing contest last summer, and their shared ideas about making epic and daring music led them to form the group "The Gunsmith & MoHit". Yuvraj has been writing poetry since a very young age and making hip-hop beats for almost a decade. Mohit has been playing the piano and singing for just as long, and has sung at many prestigious events including Miss India Worldwide Canada. Both artists bring their own distinct talents to the table to create an unforgettable blend of rap and world music.
The band just released a music video for their first single Bollywood Star – a highly catchy dance song that begins with the declaration "representing Bollywood right here in Toronto!" The video comes through on this promise, and showcases many signature locations in Toronto, such Polson Pier and City Hall, with a troupe of talented Bollywood-style dancers backing up the band as they perform the high-energy song. The video combines the swagger of hip-hop culture with the charm of a classic Bollywood dance track. You can catch it right now on YouTube, where it is already gaining a solid number of views.
Bollywood Star is the first track from the band's debut album, Conquest (EP), which is now available for download on iTunes. This 4-track concept album tells the story of an ambitious character on his journey to achieve fame, including his trials and tribulations, his victories, and what he loses in the process. The album also features Tyrant, a trunk-rattling hip-hop song, Neon Lights, an inspirational rock-inspired anthem, and the soulful and haunting final track, Circus. From start to finish, the album aims to hold listeners spellbound as the band tells a captivating story through each entertaining song.
The release of Conquest marks the arrival of The Gunsmith & MoHit to the independent music scene, and the duo will be making their presence felt over the months through exciting performances and more creative YouTube videos (their interesting cover of Haal-E-Dil is a must-watch). Their sophomore album is already in the works and will come out this fall – this will be a full-length hip-hop album featuring sufi rock, opera themes, dubstep and progressive elements. The best way to keep updated on the band's performances and musical releases is to follow them on Facebook and Twitter. You can also catch them performing at the Hershey Centre at an OHL game on February 26, as part of a "South Asian Day" celebration at the venue. Log on to www.gunsmithandmohit.com to read more about this distinctive South Asian band.
http://www.youtube.com/watch?v=W97nd3HdhJ0
Twitter: @smithythaboss, @mohitmusic
Article viewed on Oye! Times at www.oyetimes.com