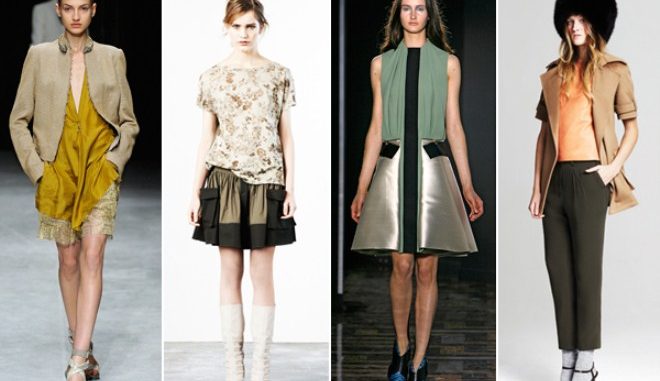 These past two seasons (spring and pre-fall '12) have churned out some trends that are both futuristic and nostalgic at the same time. While it's not entirely a Jetsons rerun, the collections did somehow meld together ultramodern silhouettes with stylistic touchstones from years past, in a way that felt exciting yet comfortable. And that brings us to the much-awaited color trends of 2012! From hues that are decidedly retro to bold trends that are wholly new, here are the five sets of shades that we're really looking forward to trying out in the new year.

'70s Applicances — From Harvest Gold and Almond to Avocado Green, the slightly muted, "natural" colors on the runway reminded us of Gram's kitchen (in a good way).

Layered Neutrals — In soft oatmeals, browns, tans, and grays, neutral tones were often worn one on top of the other, for a layered multi-dimensional effect.

Pastels — Girly shades like Blush Pink, Mint Green, and Robin's Egg Blue seemed like a logical transition from this fall's neon trends.

Graphic Black And White — The whites were stark-white and the blacks and inky-obsidian… and when paired together, the results were stunning. Designers chose to use this duo to break up other splashes of colors, to audacious effect.

Tangerine Tango — As Pantone's color of 2012, this sunny hue has already cut its way into designer psyches, popping up mostly in dresses and coats.
Click HERE to read more from Refinery29.