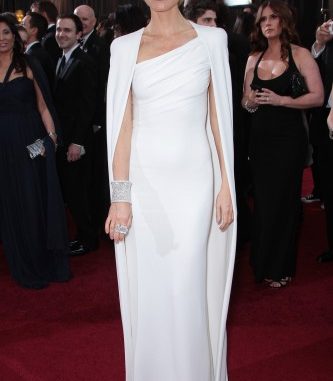 Of all the accolades doled out this awards season, the one we care about most (duh!) is the Leading Lady Look Of The Year — yup, we just made that up. Although the style from last night's sartorial spectacle may have been a little (okay, utterly) disappointing for those of us hungry for an iconoclast-moment, the ladies who really went for it —and killed it — still made it hard for us to choose a clear winner.
Whether they were receiving gold statues, handing them out, or just looking statuesque, these 10 admirable actresses and their stylists gave us the most posh pre-show we've seen in years. Between Gwyneth's to-die-for Tom Ford, Angelina's Atelier Versace whole-lotta-leg look, and of course, Jessica Chastain taking the marvelous McQueen from the runway to the red-way, we just couldn't come up with a consensus on the best dressed lady of the evening.So, we're humbly asking you to click through, and make an Academy-like decision: Who takes the highest (fashion) honors of them all? (Sadly, a moving, Meryl-style acceptance speech will most likely not follow, but that doesn't mean your vote doesn't count.)

Gwynnie apparently spotted her snug and simply elegant Tom Ford on the runway last week, and couldn't live without it. We're glad she asked TF for the white wonder because we were begging for some serious chic, and Ms. GOOP didn't disappoint. Also, we adore the cape that came with — so perfectly prepped for that surprisingly chilly red carpet.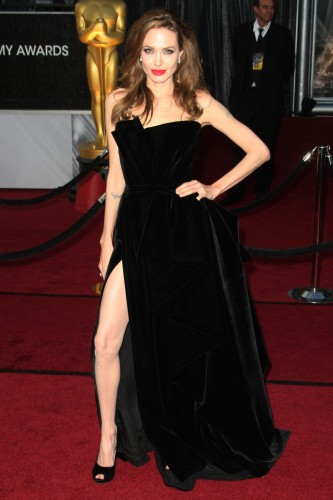 Sumptuous is the only word that comes to mind when it comes to Angelina Jolie's thigh-high velvet Atelier Versace gown. Dripping in 2.5 million dollars worth of Neil Lane jewels, and flaunting the longest, most luscious legs on the planet, Ange made it hard to concentrate on any word she was saying, when she oh-so-confidently presented the award for Best Adapted Screenplay (The Descendantswriters won in case you really were that distracted!).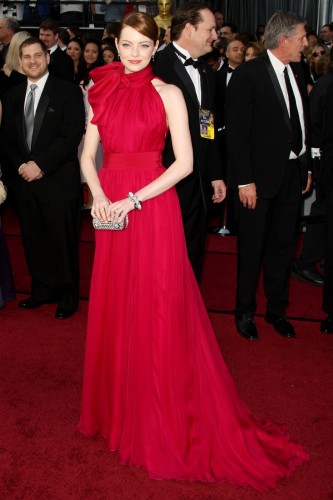 Plain and simple: Giambattista Valli suitsEmma Stone. Especially when it's a beautiful berry-hued frock with a necktie and cinched waist! Channeling Nicole Kidman of days past ('07, to be precise), she looked as effortless as ever!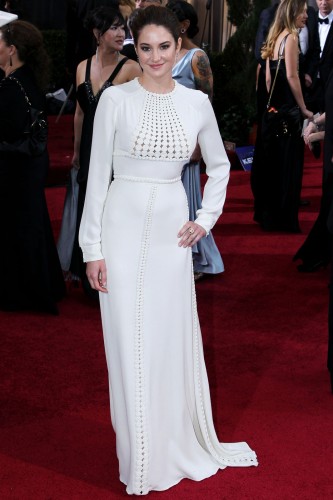 As if she had stepped straight out of a Jacqueline Susann novel, Shailene Woodley was nostalgically chic in her snow-white, long-sleeved Valentino Couture beaut. The laser cutouts along the bust added a unique aesthetic element to the gorgeous gown. We're thrilled that the 20-year-old The Descendants star is clearly and quickly ascending the style charts!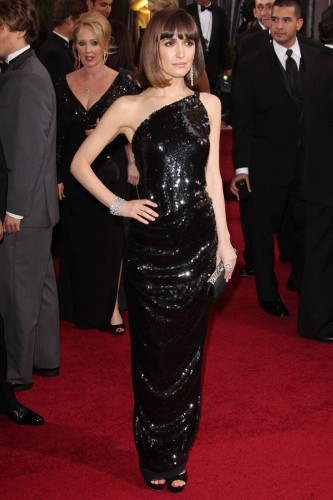 Rose Byrne was a haute hit of the eve in a razzle-dazzle sequined Vivienne Westwood that embraced the backless trend with a single asymmetrical strap. We always appreciate an added touch of Chanel, and those drop earrings certainly did the trick.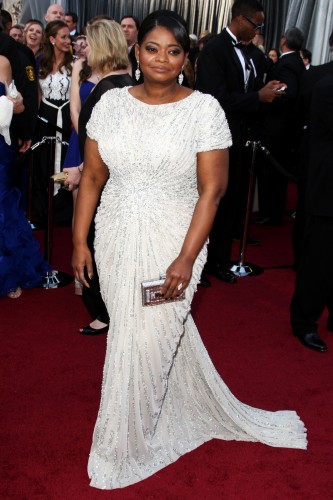 Oh Octavia! We couldn't be happier for the now Oscar winner! The Help actress and Best Supporting Actress winner glimmered and shimmered during her humbly sweet acceptance speech in her tried-and-true label Tadashi Shoji. All sequined roads on the gown led to a cinched waistline, a fabulously flattering wardrobe trick of stylists Wendi and Nicole Ferreira's.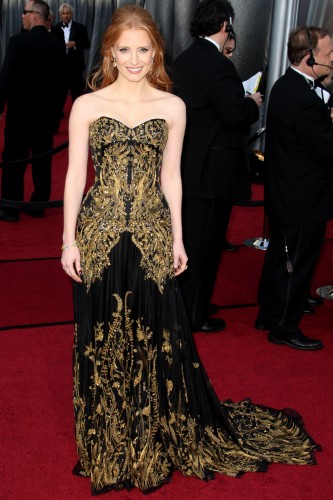 Just like her performance in The Help,Jessica Chastain's strapless Alexander McQueen with gold brocade beadwork was a work of art, and her yellow Harry Winston diamonds did a great job sealing the deal on this Elizabeth Stewart-styled number. She's in our Top Five; where does she land on your list?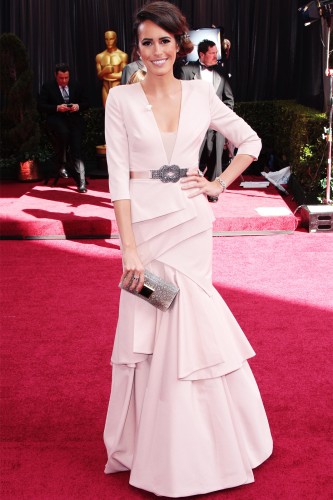 ABC red carpet presenter Louise Roe's style is always multi-layered, and her Victorian Black Halo 3/4-sleeved stunner last night was no exception. She looked impeccably glamorous and professional while hitting us with all of the most pertinent style info!

Michelle Williams has been winningmost votes around the Interwebs, with her cool-girl coral Louis Vuitton peplum dress (didn't it look red on screen?). The sweet bow-tie brooch by Fred Leighton for Forever Mark was a great touch to the graduated-tiered chiffon, and we're glad that the My Week With Marilyn star followed up on that yellow dress with something just as quirky and charming.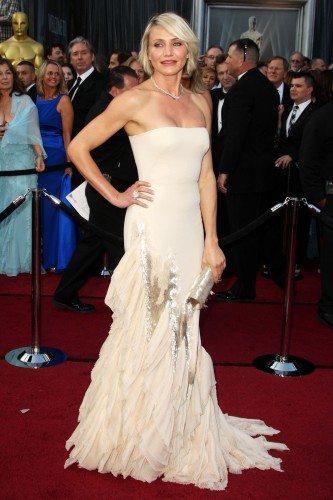 Cameron Diaz gave us a good old-fashioned gasp in her Gucci asymmetrical crème (de la crème) gown. We were waiting for someone to stun us in the midst of all of those play-it-safers, and thankfully, the star (finally) granted us our moment. The form-fitting cascading chiffon and sequins strapless gown fit like a glove on Cam's oh-so-perfect bod (the best reminder to hit the gym this week!).
Click HERE to read more from Refinery29.