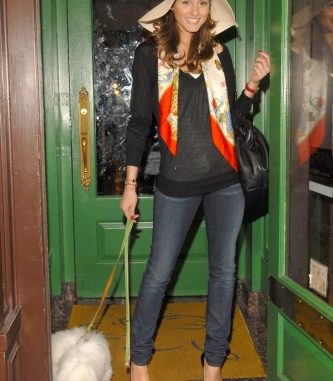 Olivia Palermo's fashion career has been a short one so far, but she's been able to don more proverbial hats than most young girls who have lived in the limelight. Indeed, her public persona has ranged from the controversial, gossip-fodder socialite to reality TV super-villain to bonafide fashion inspiration. Today, Olivia Palermo runs an eponymous website with a staff, and also spreads her time knocking out some well-received collaborations (including her jewelry collection with Roberta Freymann that basically reignited our love for bib necklaces) and models for R29-approved brands like Tibi and Rochas. No matter how flawless her style is now, the journey to Perfect Outfit icon wasn't a short one. We've done some digging to unearth choice pics of Olivia from the past six years to map out the trajectory of one of our favorite style starlets.

June 20, 2006: For a shoot for The Daily, Olivia chose to accessorize an unimaginative T-shirt and jeans look with a floppy hat, a slightly matronly silk scarf, and her puppy, Mr. Butler.

November 8, 2007: Olivia attends the screening of Margot at the Weddingwearing what appears to be the castoffs of Don "Magic" Juan. The silk tank, metallic blazer, and bootcut jeans aren't helping the cause, either.

June 25, 2008: What girl didn't love her liquid latex leggings in 2008? Olivia begins to show signs of her now-signature mix of clutches, layered necklaces, and simply layered separates.

April 1, 2009: At the Topshop store opening in New York (remember when, guys?), Olivia rocks a giant bib necklace and fringed jacket. There's our girl!

May 17, 2009: Though 'tomboyish' isn't a word you'd usually associate with Olivia, she shows how to deviate from the cocktail dress standard with a boyish blazer, neck tie, and high-waisted shorts. Adorable!

September 20, 2009: When Olivia wore this embellished Topshop jacket and sequined shorts out to the Topshop Unique show in London, she spurred a mad rush to the shops. For weeks, this rock-'n'-roll staple was sold-out in stores everywhere. Now that's power.

June 4, 2010: Staying girly but looking irreverent is something that most of us have problems achieving, but it seems to be Olivia's forte.

September 12, 2010: For anyone who's scared to mix prints for fear of looking too crazy, take note of Olivia's expert mixology. Also, check out that shorter crop!

September 30, 2011: Olivia in a daring sheer black dress, made all her own with a pair of moto booties, gorgeous earrings, and blood-red accents.

October 3, 2011: Recently, Olivia's become a fixture at fashion shows and other industry events, constantly reinterpreting daring runway looks in her own, classically chic way.
Click HERE to read more from Refinery29.