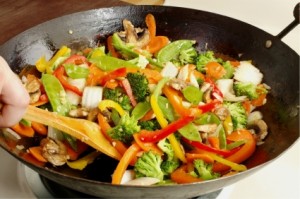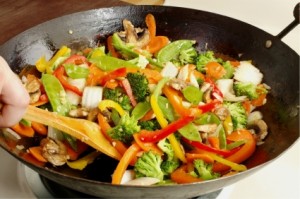 Vegetables Stir Fry
Serves 4
Ingredients:
1/4 cup honey
1/4 cup prepared stir fry sauce
1/4 tsp. crushed red pepper flakes (1/4 to 1/2 tsp.)
4 tsps. peanut oil or vegetable oil
2 cups small broccoli florets
2 cups small mushrooms
1 small onion, cut into wedges and separated into 1-inch strips
1 medium carrot, cut diagonally into 1/3 inch slices
Directions:
Combine honey, stir-fry sauce and pepper flakes in small bowl; set aside.
In wok or large skillet, heat oil over medium-high heat.
Add vegetables and toss while cooking, about 2-3 minutes.
Add honey sauce, stir until all vegetables are glazed and sauce is bubbly hot, about 1 minute.
Serve as a vegetable side dish or over steamed rice or noodles for a main dish.