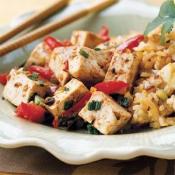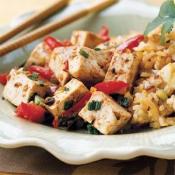 Peppered Tofu
Serves 6
Ingredients:
1 tbsp sesame oil
1/2 tsp dried red pepper
1 slice fresh ginger, thin
1 tbsp oyster sauce
8 oz. tofu, cubed
Directions:
Heat 1 tablespoon sesame oil in a fry pan, add 1/2 teaspoon dried red pepper and 1 thin slice fresh ginger.
Cook and stir over medium heat for 2-3 minutes. Stir in 1 tablespoon oyster sauce; add 8 ounces tofu, cubed, and stir to heat through and coat with sauce.