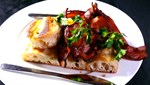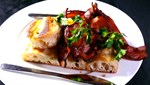 Egg In Spicy Almond sauce
Ingredients :
1 oz blanched slivered almonds
2 tsps whole Jeera
2 tbsp white poppy seeds
1 tsp ground coriander seed
1 whole dried hot red pepper
5 tbsp vegetable oil
3 whole elaychi
1 medium onion, finely chopped
4 cloves garlic, finely chopped
¾" fresh ginger, finely chopped
2 fl oz yogurt
2 fl oz spicy tomato sauce
1 tsp salt
4 fl oz single cream
1 tbsp lemon juice
½ tsp garam masala
4 hard- boiled eggs cut in half
Method :
Put the almonds in a small heavy frying pan and stir over medium to low heat until light brown.
Pulverize in a grinder and remove.
Put 1 tsp cumin seeds, poppy seeds, coriander seeds and red pepper into the frying pan.
Dry roast over medium low heat until the poppy seeds darken, then grind the spices.
Heat the oil in a 7-8" frying pan over a medium flame.
When hot put in the remaining Jeera and the whole cardamom pods.
Stir and fry for a few seconds then add the onion garlic and ginger.
Stir and fry for about five minutes until lightly browned.
Put in 1 tbsp of yogurt and stir and cook for about 30 seconds until the yogurt is gradually incorporated into the onion mixture.
Put the remaining yogurt 1 tbsp at a time the same way.
Then mix the tomato sauce the same way.
Put in ground spices and stir for 10 seconds.
Put in ground almonds and stir for another 10 seconds.
Add 8 fl oz water and salt. Simmer, cover and reduce heat.
Simmer gently for 5 minutes.
Add cream, lemon juice and garam masala. Stir to mix.
Simmer on low heat for 4-5 minutes.
Put the eggs into the sauce.
Spoon some of the sauce over them and simmer gently for 7-8 minutes, spooning the sauce over the eggs often.
Serve with rice or bread and green salad.