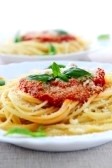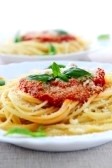 Tomato Pasta
Ingredients:
• (8-ounce) package penne
• 4 cups chopped seeded tomato
• 1/2 cup chopped pitted kalamata olives
• 1/2 cup shredded Parmesan cheese
• 1/4 cup chopped fresh basil
• 2 tablespoons olive oil
• 1 tablespoon pine nuts, toasted
• 1 tablespoon balsamic vinegar
• 2 garlic cloves, minced
• 1/2 teaspoon salt
• 1/4 teaspoon black pepper
• 1/8 teaspoon crushed red pepper
Directions:
1• Cook pasta according to package directions (omit salt and fat). Drain.
2• In large saucepan over medium heat, saute onion first and then add the garlic in vegetable oil with a touch of olive oil until soft and slightly browned. Stir in ground tomatoes, whole tomatoes and seasoning. Wait for boil and then after 20 minutes reduce heat and simmer not less than 1 hour. The longer it simmers the better it tastes.
3• Combine pasta and remaining ingredients, tossing to coat.
4• 4 servings (serving size: 1 3/4 cups)
430 calories