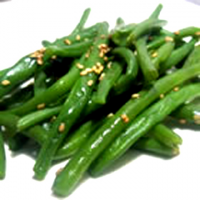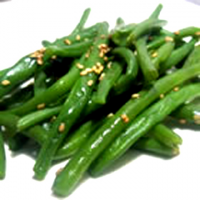 Sesame Green Beans
Ingredients:
1 lb. green beans, trimmed and cut into 1/2 inch pieces
2 tbsp. sesame seeds
2 tbsp. soy sauce
2 tsp. Oriental sesame oil
1/8 tsp. nutmeg
Directions:
Place green beans in a steamer basket over boiling water. Cover saucepan and steam 8-10 minutes or until almost tender.
Heat a heavy nonstick skillet over medium high heat. Add sesame seeds. Shake skillet constantly until sesame seeds are golden.
Reduce heat to medium low and stir in soy sauce, oil and nutmeg. Add green beans and toss.