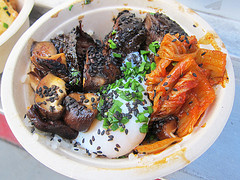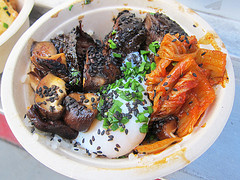 Chicken Tofu on_The_Go
Ingredients:
1 x 300 gm soft bean curd
2 tbsp cooking oil
2 cloves garlic, minced
100gm minced chicken meat
A:
2 tbsps water
2 tbsps oyster sauce
2 tsps dark soy sauce
1 tsp chicken stock granules (Maggi ®)
½ tsp sesame oil
Pepper to taste
1 tsp cornstarch, mixed with 2 tsps water
1 stalk of scallion/spring onion, finely sliced
1 stalk coriander, finely sliced
1 red chili, finely sliced
Directions:
Place bean curd on a heatproof plate and steam over medium heat for 2 minutes; set aside.
Stir fry garlic in hot oil until lightly browned.
Add in chicken meat and fry for 2 minutes.
Stir in A ingredients and bring to a boil. Thicken with cornstarch mixture and set aside.
Spoon sauce over bean curd and garnish with scallion, coriander and chilli. Serve immediately.