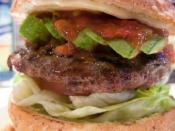 You can publish this article on your website as long as you provide a link back to this page.
This article was last updated on April 16, 2022

Salsa Cheeseburgers
Ingredients:
1 lb lean ground beef
1/4 cup Italian style breadcrumbs
6 slices cheddar cheese
1 egg
1/4 cup salsa
2 garlic cloves, minced
1/2 red pepper, finely chopped
4 green onions, finely chopped
1/2 teaspoon Worcestershire sauce
1 tablespoon Dijon mustard
1 dash hot pepper sauce (optional)
1/2 teaspoon salt
1/4 teaspoon pepper
Preparation:
In a bowl, beat the egg and mix in all the ingredients (except the ground beef and cheese). Mix in the beef and shape into six 1/2-inch patties. Cook over medium heat for about 5 minutes on each side. Add the cheese during the last 3 minutes of cooking.