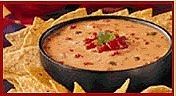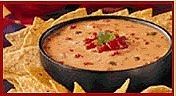 Mexican Cheese Dip
Ingredients
1 pound processed American cheese, cubed
1/2 pound fresh, ground spicy pork sausage
1 (12 ounce) package frozen chopped broccoli
1 (10 ounce) can diced tomatoes and green chiles
Directions
Place processed cheese spread in a microwave-safe bowl. Microwave on high in 2 minute increments (stirring at each pause) until the cheese spread is melted.
While the processed cheese spread is melting, brown sausage in a small skillet. Drain well.
Place broccoli in a microwave-safe bowl, cover, and microwave on high for 5 minutes.
In a large mixing bowl, combine melted cheese, sausage, broccoli, and diced tomatoes. Stir well before serving.