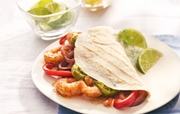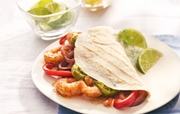 Grilled Shrimp Fajitas
Ingredients
1/2 pound sliced bacon
1/2 pound uncooked medium shrimp, peeled and deveined
1 medium green pepper, cut into 1-inch pieces
1 medium sweet red pepper, cut into 1-inch pieces
1 medium onion, cut in 1-inch pieces
1/2 cup barbecue sauce
6 (8 inch) flour tortillas, warmed
1 cup shredded lettuce
1 medium tomato, diced
1/2 cup shredded Cheddar cheese
Directions
In a large skillet, cook bacon over medium heat until cooked but not crisp. Drain on paper towels. Wrap a strip of bacon around each shrimp; secure ends with toothpicks.
On six metal or soaked wooden skewers, alternately thread shrimp, peppers and onion. Grill, covered, over medium heat or broil 4 in. from the heat for 2-3 minutes on each side or until shrimp turn pink and vegetables are tender, basting frequently with barbecue sauce.
Remove shrimp and vegetables from skewers; discard toothpicks. Place on one side of each tortilla. Top with lettuce, tomato and cheese; fold over.