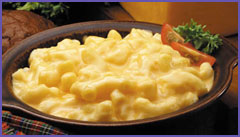 Ingredients :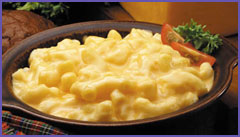 Other ingredients :
3 teacups boiled macaroni
½ teacup chopped parsley
¼ tsp nutmeg powder
½ tsp dried or fresh oregano
1 teacup grated cheese
1 sliced tomato
a little butter
salt and pepper to taste
For the white sauce :
3½ tbsp butter
3½ tbsp plain flour
3½ teacups milk
salt and pepper to taste
Method :
For the Macaroni Supreme :
Add the parsley, nutmeg powder, oregano, salt and pepper and three-quarters of the cheese of the white sauce.
Mix the macaroni and white sauce and spread on a greased baking dish. Put the tomato slices on top.
Cover with the remaining cheese and dot with butter. Bake in a hot oven at 450ºF for about 25 minutes.
Serve hot.
For the white Sauce :
Melt the butter, add the flour and cook for 2 minutes without browning, while stirring throughout.
Remove from the heat and gradually add the milk. Mix the until well blended.
Return to heat and cook slowly, stirring throughout until the sauce thickens. Add salt and pepper and mix well.