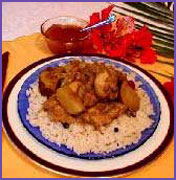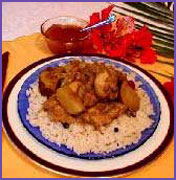 Ingredients :
3lb chicken in small pieces, skinned
4 whole dried hot red chilies
2″ cinnamon stick, broken
1½ tsp cumin seeds
7 cardamom pods
10 cloves
2 tsp grated ginger
1 tsp crushed garlic
4 oz pitted dried apricots
6 tbsp vegetable oil
½lb onions cut in fine half rings
2 tbsp tomato puree mixed with 8 fl oz hot water
1 tsp salt
2 tbsp white malt vinegar
1½ tbsp sugar
1 tbsp salt
7 oz potato, peeled
oil for deep frying
Method :
Put red chilies, cinnamon, cumin, cardamom and cloves in a grinder and grind finely.
Put chicken in a big bowl. Put 1 tsp grated ginger, ½ tsp garlic and half the dry spice mix on the chicken.
Mix well, rubbing seasoning onto the chicken. Set aside for one hour.
Put the apricots into a pan with ¾ pt water. Boil, reduce the heat and simmer until tender but not mushy.
Turn off the heat and leave in juice.
When the chicken has marinated, heat 6 tbsp oil in a pan over medium heat.
Add the onions and stir and fry until they are rich reddish brown.
Turn heat to medium and add remaining garlic, ginger and dry spice mix.
Stir, add chicken. Stir & brown for 5 mins.
Add the tomato puree mix and salt. Boil, cover, reduce heat and simmer for 20 mins.
Add the vinegar and sugar and cover and simmer for 10 minutes.
Turn off the heat and spoon off as much fat as possible from the surface.
Put the apricots and 3 tbsp of juice into the pan with the chicken and leave for at least 30 minutes.
Make potato straws. Fill a large bowl with 3 pts water.
Add salt and mix. Grate potato coarsely, put into the bowl of water and stir. Remove the potato, squeezing out as much liquid as
possible.
Drain and dry on kitchen paper.
Heat the oil slowly and when hot, add the potato straws.
Stir and fry until crisp and pale golden. Remove and drain on kitchen paper.
Heat the chicken through gently and serve with potato straws.