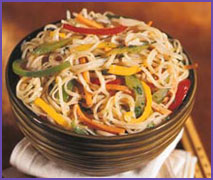 You can publish this article on your website as long as you provide a link back to this page.
This article was last updated on April 16, 2022

Ingredients :
200 gms French beans
200 gms carrots
2 potatoes
450 gms cabbage
2 capsicums
6 garlic cloves, crushed
3 sliced onions
1 teacup parboiled green peas
2 teacups sprouted moong
2 teaspoons chilli powder
1 teacup coarsely ground peanuts
1 teacup boiled noodles
2 tsp chilli sauce
2 tsp soya sauce
1 tsp Ajinomoto powder
4 tbsp oil
Method :
Slice the French beans, carrots and potatoes into cubes.
Shred the cabbage and capsicum finely. Heat the oil in a vessel, put the garlic and cook on a high flame for ½ minute.
Put the onions and sauté until it becomes pale in colour.
Put the chilli powder and cook for 1 minute.
Put the French beans, carrots, potatoes and Ajinomoto powder and cook for at least 4 minutes.
Mix the green peas, sprouted moong, cabbage and capsicum and cook again for a few minutes.
Finally put the peanuts, noodles, soya sauce and chilli sauce.
Ready to serve hot.