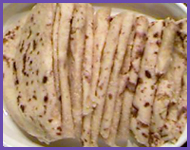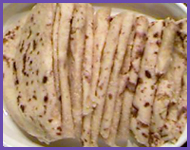 Ingredients :
1 cup maida
1 cup sugar
1 tsp ghee
1 pinch salt
½ litre milk
3 cardamom pods
1 pinch saffron
oil for frying
Method :
Sieve maida. Put salt, ghee and sufficient water.
Make a dough and knead till it becomes stiff and smooth.
Cover the dough and leave for at least 15 to 20 minutes.
Divide into 10 equal parts and shape them into balls and roll into polis.
Fold each poli into both shape half and seal the semi-circular edge, applying water and pressing with fingers.
Keep polis on a newspaper, without touching each other.
Heat oil, in frying pan, to smoking point.
Deep fry polis, one by one and keep aside.
Boil milk with sugar in a vessel. Lower flame to the minimum.
Put the cardamom powder and saffron.
Whenever you want to serve, soak the polis in milk, one by one.