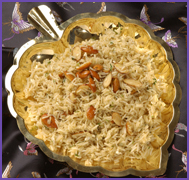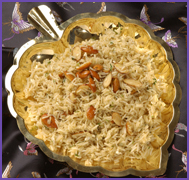 Ingredients :
2 cups rice
1½ cups milk
3 to 4 cups yogurt
½ tsp mustard
½ tsp urad dal
a small piece ginger, finely chopped
2 to 4 green chillies, finely chopped
Cilantro, finely chopped
A small pinch hing
2 tsp butter
½ cup white grapes
Salt
Method :
Wash and cook rice in 3 cups of water and milk. Keep aside.
Sauté mustard, urad dal, and hing in little oil and add it to the above.
Put the chopped ginger, green chillies, cilantro, butter, grapes, and yogurt and mix properly.
Ready to serve.