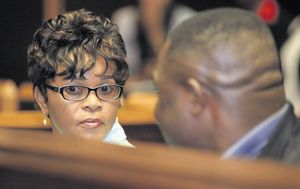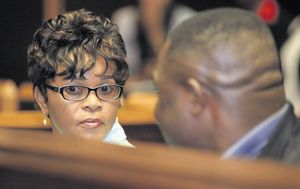 Sheryl Cwele, the convicted drug dealer's attempts to keep her job at KwaZulu-Natalmunicipal have failed.
The municipal manager, Sbu Mkhize has said on Tuesday that according to the decision taken by of the appeal committee chairperson, effectively terminates the relationship between Ms Cwele and Hibiscus Coast municipality
Sheryl Cwele, the former wife of State Security Minister Siyabonga Cwele, was fired in August after the municipality's disciplinary committee ruled against her. She had been given 10 days to appeal against the decision. Her appeal was also rejected afterwards.
Cwele's case hearing had begun in June this year. The results were assembled to determine if she might remain at her post after she was convicted of drug dealing by the Pietermaritzburg High Court in May. Judge Piet Koen convicted her and her co-accused Nigerian, Frank Nabolisa of working mutually to recruit two female agents to transport drugs from South America.
Cwele, previously employed as theHibiscusCoastmunicipality's director of health services, was sentenced to 12 years' imprisonment. She is appealing against her drug dealing conviction and is out on R100,000 bail.
Mkhize told that Cwele filed her appeal on August 14. It also raised the necessity of establishing an appeal committee to judge the matter, chaired by Brian Denny of Norton Rose South Africa. He also told that the appeal was heard on September 1 and the results were revealed on September 30.
The decision has supported the disciplinary committee chairperson's judgment on the matter. However, no comments have yet been obtained from Cwele or her lawyer, Mvuseni Ngubane.
Article viewed on Oye! Times at www.oyetimes.com