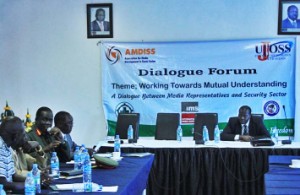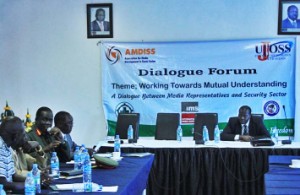 South Sudan's media has initiated steps to create a working relationship with security agencies in the infant state.
The Association for Media Development in South Sudan (AMDISS) has today convened a dialogue meeting in Juba with the security agencies following widespread outcry over the recent arrest and intimidation of journalists.
The AMDISS Executive Secretary Dr Hakim Moi told Gurtong that the meeting sought to enhance better understanding between the two as well as identify different ways of addressing media disputes.
"There has been an outcry by the independent media over unwarranted intimidation by security agents. This is unfortunate and is likely to affect the work of the media, especially after the attainment of independence of South Sudan", said Dr Moi.
A major question of concern that arose during the discussions was on who is responsible to decide on the wrongness of an article and arrest a journalist.
"We want to make sure that we have a common understanding on where the mistakes and issues on both sides are; whether it is on the side of the media or the security agencies", he said.
He added that the meeting was also convened to petition the government to enact a media law.
A facilitator at the meeting Paul Jimbo said at least 15 journalists have so far bore the brunt of harassment and unlawful detention since the attainment of independence on 9 July.
The meeting came just days after the arrest of two journalists working with a local newspaper while another media outlet was shut down by authorities over what was alleged to be inappropriate reporting.
Click HERE to read more.