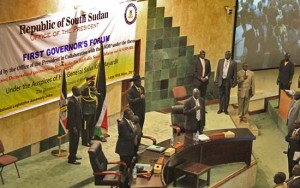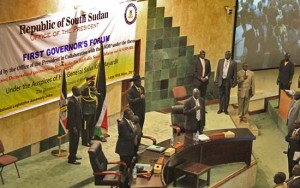 South Sudan President Salva Kiir Mayardit has affirmed his government's commitment to bring services closer to the people.
Speaking when he opened this year's Governors' Forum in Juba today, President Kiir said that decentralisation is the best way to ensure citizens are involved in key decisions that support development.
He also called for effective management of the country's revenue, including oil in a bid to attain development.
"You know very well that our major source of revenue is oil. It is important that that revenue is well managed so that services can be delivered to the people of South Sudan as effectively as possible. This will ensure that sectors such as health, education and security are improved", said Kiir.
The five-day conference under the theme "strengthening decentralised governance with South Sudan for equitable service delivery and sustainable development" brings together all the Governors of South Sudan's ten states, national and state legislators, the judiciary and the executive.
It has been organised by the South Sudanese Presidential Affairs Ministry and the United Nations Development Program (UNDP).
The Presidential Affairs Minister Emmanuel Lowila said the forum aims at reviewing the achievements of past Governors' fora and come up with five strategic interventions to improve the decentralisation policy.
"We will try to focus on the South Sudan Development Plan 2010/2013 and particularly look into the areas of priorities that are set in that plan. We will also look at different modalities for public service reform that will enable us improve our service delivery", said Lowila.
The opening ceremony was also attended by South Sudan Vice President Dr Riek Machar, development partners and members of the diplomatic corps.
Click HERE to read more.