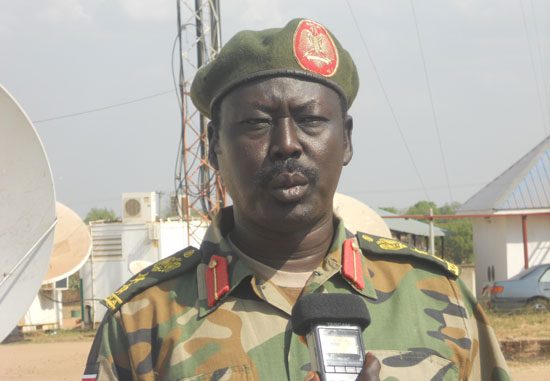 The Sudan People's Liberation Army Spokesman, Col. Philip Aguer has told the media that the Sudan Armed Forces (SAF) has killed 17 civilians in an air bombardment in Unity and western Bahr El Ghazal States.
"Sudan Armed Forces have launched air bombardment in Raja and Parieng Counties in Western Bar El Ghazal and Unity States since yesterday (Wednesday) and 29th. This claimed the lives of 17 innocent South Sudanese pastoralists," Said Col Philip Aguer the SPLA Spokesman.
The SPLA spokesman condemned the barbaric act against humanity and international humanitarian principles.
"The same has been happening to Jau since the 3rd of this month until today and the surrounding environment. Civilians have been displaced in parts of Parieng County but the SPLA are monitoring ground movement of the SAF towards Parieng and they are on high alert to protect the territory of Unity State and the bordering Counties." he said.
According to Aguer, the Sudan Armed Forces have been intensifying their support to the Lord Resistance Army (LRA) and they are moving from South West Darfur at the borders with Central African Republic. The LRA are causing havoc in Raja County.
"We call upon the civilians especially the Western Equatoria State (WES) youths to work together with the SPLA forces in the area to collect information about the LRA. SPLA and other security organs will double their efforts to protect civilians in WES." Col Aguer added.
According to Aguer, the Sudan Armed Forces are alleged to be aggressively deploying their forces to occupy oil fields hence violating the South Sudan territories. The Government of the Republic of South Sudan has given Khartoum a diplomatic chance to act appropriately in order to allow peaceful means to resolve all areas of disagreement.