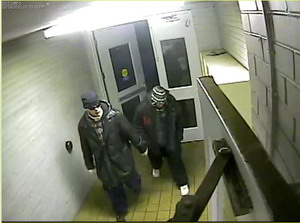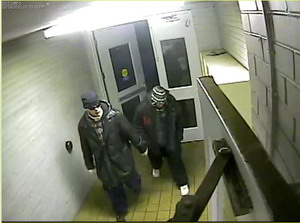 The Hamilton Police Service Homicide Unit is releasing the image of two persons of interest in relation to the murder of Jessie Kovacs.
Kovacs was found murdered in his apartment at 307 Johns St. S.,Hamilton on December 22, 2011.
Investigators have obtained video footage of the parties that they are seeking to speak to in regards to the incident.
The male is described as: Male, White, 18-30yrs of age, approx 5'7" to 6' tall, weighing approx 165lbs. The male was wearing a dark toque, sunglasses, ¾ length dark leather jacket possibly with a hood, blue baggie pants, a two tone checked hoodie and black skateboard type shoes with white soles. The male was wearing the clothing depicted on Monday, December 19th, 2011.