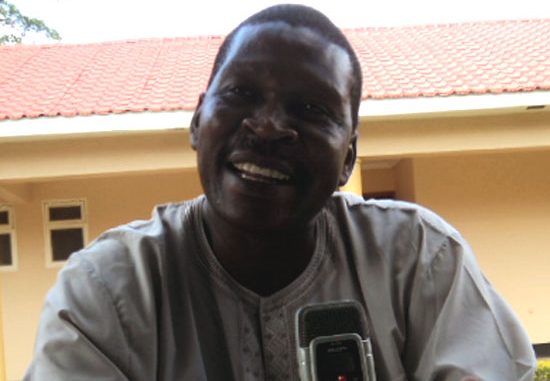 The Minister was addressing the media last Thursday at Hotel Torit, following his arrival from Yambio alongside the WES' Governor, Hon. Joseph Bakosoro Bagasi together with Bishop of Diocese of Tombura in Yambio, his lordship Hiiboro Eduardo, WES' Paramount Chief, Mr. Wilson Hassan Piny before they headed to Kuron village in Kapoeta East County of Eastern Equatoria State (EES) to join retired Bishop Paride Taban to mark his birthday.
The team came to attend the 75th birthday celebrations of the retired Bishop of Torit Diocese, Emeritus Paride Taban at Kuron village. The celebration which began on Saturday the 25th February ended on Sunday 26th February, 2012.

Kisanga urged all South Sudanese citizens to reflect reasons for successive wars, notably the 21 years of civil war in the then Sudan leading to the present South Sudan.
He also called on all political leaders in the country to put aside their political differences and enlighten the South Sudanese communities on the importance of coexistence and love among themselves to determine their country's destiny.
The minister continued that the unity among South Sudanese people at this time is vital.

He reiterated that, "Let us work hard to bring unity among our communities and ourselves as leaders and intellectuals because at times we become instigators of insecurity against our people."
"Enough is enough, gone are the days when we talked of Jallabas! Jallabas! Let us carryout our duties as responsible citizens in their own nation. When we fight, it tells the world that we are not in solidarity and we do not deserve to be respected. We don't want to be ruled but to rule ourselves as South Sudanese," he continued.

Kisanga revealed that in the last Equatoria States Conference held in Juba, they agreed to unite so as to be able to further unite the whole of South Sudanese. He continued that State boundaries should not divide South Sudanese at large but should be used for administrative purposes only.