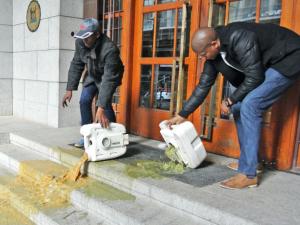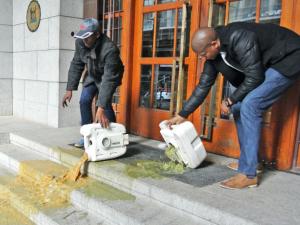 Protesters in Cape Town have been dumping human waste on different locations in an attempt to pressurize the concerned authorities and convince them to improve sanitation services. The strange protest has been going on for a few months now.

In recent chain of events, protesters dumped raw human waste in front of the Western Cape Legislature and in Khayelitsha during a Democratic Alliance (DA) constituency service day. The N2 near the R300 remained close on Wednesday while several protesters gathered human waste on the road.

According to the City of Cape Town, 82 percent of informal settlements were deprived of full flush toilets, which makes it impossible to provide proper sanitation facilities. Nevertheless, protesters demand better sanitation services and threaten to continue dumping human waste at public places.

"If a community is in an area where we are not able to give normal flush toilets we will give the community proof as to why we are not able to. Therefore, we'll offer an alternative. Nobody is without sanitation," Cape Town Mayor Patricia de Lille said.

Western Cape Premier Helen Zille has called on the ANC Youth League (ANCYL) to help end the protests while the ANC maintains its distance from the matter. ANC claims it has called upon its members in the affected communities to only engage in democratic forms of protest.