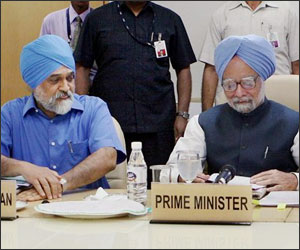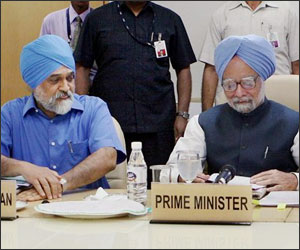 A poverty line cap – Rs. 32 in metropolitan areas and Rs. 26 in rural areas – is unlikely to be revised but the Planning Commission would submit a clarification affidavit in the Supreme Court explaining the need for expenditure based cap. The plan panel deputy chairperson, Montek Singh Ahluwalia, who has returned from 10 days foreign visit on Saturday, met Prime Minister, Manmohan Singh and confessed that the affidavit saying that per capita per day expenditure of Rs. 32 or Rs. 26 was enough get oneself confused.
Ahluwalia said to have told PM that he will discuss the issue with plan members on Monday and then take a decision on filing another affidavit to clear the wind regarding the controversy would be taken.
"I brief Prime Minister on my China visit and also on the media reports on poverty," Ahluwalia told Hindustan Times. Ahluwalia said to have told the PM that poverty line and detection of the poor are not connected and any change in poverty line could have huge financial implications.
The Central government disburses funds worth Rs. one lac crore to the state governments to provide subsidized food grains to the poor and money for building homes under Indira Awas Yojana. In the years to come, the government plans to give subsidy directly to the poor through Unique Identification Number (UID) linked bank accounts and any upward revision in the poverty line would mean higher portion, defeating the government's attempt of fiscal consolidation.
Two plan panel members – Abhijit Sen and Mihir Shah – and rural development minister Jairam Ramesh had expressed reservation on the poverty line. "A new affirmation explaining the position of the entire board rather than a few members should be filed," a member, requesting inscrutability, said.
Ramesh, who had suggested a substitute methodology to define poor, met Ahluwalia on Sunday night to discuss more inclusive poverty line definition. He had suggested a prohibiting criterion having no single below poverty line list with all the non-excluded households to be part of one main list with subsidiary lists for specific programs.
Ahluwalia was favorable to his idea and said it needs to be discussed with other members of the plan panel before taking a final decision. But, Ramesh suggestion will not change definition of poverty line as it talks about the identification process and disbursing benefits to the poor.
Sen has told Hindustan Times last week that poverty line of Rs 32 and Rs 26 figure based on Tendulkar committee tactic will be revised once the panel receives the data of National Sample Survey on consumer expenditure for 2011-12. Ruling out revision of the methodology, he has said if the state governments want, they can provide benefits to as many poor as they want and there is no central government cap on that.
Congress general secretary Rahul Gandhi is believed to have asked the Plan panel to reorganize its definition of poverty even as National Advisory Council members Aruna Roy and Harsh Mander asked Ahluwalia and other plan members to try and live on Rs 32 per day in a city like Delhi. "Only animals can survive on this money," another NAC member N C Saxena said.
Article viewed on Oye! Times at www.oyetimes.com