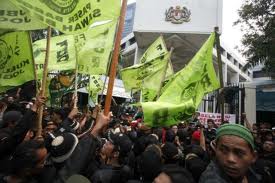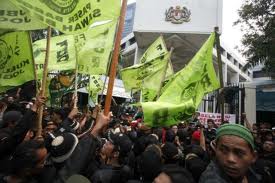 A demonstration stemming from the latest media highlights of the Malaysia-Indonesia borders in West Kalimantan resulted in damaging the guard post window of the Malaysian Embassy in Indonesia on Wednesday. The protest also left nine Indonesian policemen responsible for controlling the crowd.
The protest was staged by a group called Forum Betawi Rempug (FBR) consisted of around 650 people who threw stones at the guard post as well as the policemen who were on duty.
Indonesian media had highlighted that Malaysia had seized 1,000 acres of border area in West Kalimantan. This was the reason behind the anger of the crowd called FBR, who had gathered outside the embassy at 1:00 p.m.
However, the foreign ministers of both the countries had stated in a press release that the coordinates of the border had been marked earlier on, that is, during the colonial times. The act of removal of these markers was either a mere mischief or a result of natural disasters and has not been done on the part of the Malaysian Government.
Malaysian Foreign Minister Datuk Seri Anifah Aman and his Indonesian counterpart Dr Marty Natalegawa following the 11th Joint Commission for Bilateral Commission Cooperation Meeting stated that the markers will be replaced immediately by their joint survey team.
Regarding the protest outside the embassy and its aftermath, Malaysian ambassador to Indonesia Datuk Syed Munshe Afdzaruddin Syed Hassan stated that Malaysia would be sending a diplomatic note to Indonesian Government in which they will be asking the government to suggest measures as to how to protect such future incidents.
Article viewed on Oye! Times at www.oyetimes.com