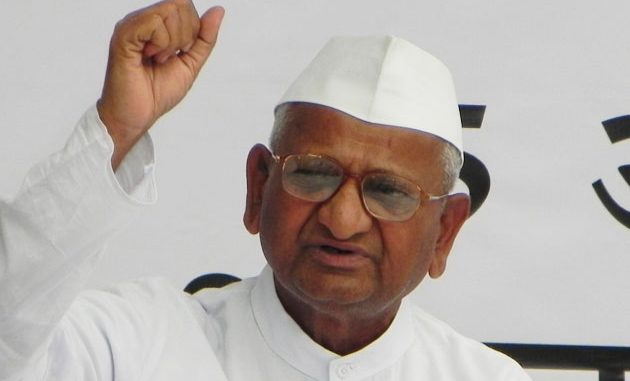 Anna Hazare, on Monday has said that he has planned to end his vow of silence in three to four days and would assume a tour of the country to meet those who supported his anti-corruption campaign. Hazare, 74, has alleged in his blog that the thought of giving up his 'maun vrat' was playing on his mind.
"In the next three to four days I might end my 'maun vrat'. Crores of people have bowed to reading my blog all over the world hence I think it would only seem suitable that I end my 'maun' and hold open discussions with them," he said.
The crusader has said that he would "go on board on a tour and meet all those young men and women, farmers, working class, school children from all over the world who were a part of this uprising against corruption and at times even went to jail for the sake of the cause".
"I have this strong urge from within to meet and talk to all these people who courageously faced the hazards. Hence I would like to end my 'maun' and start off touring different states and hold discussions with them," said Hazare, who has been demonstration for a strong Lokpal to check corruption in high places.
He has led two successful anti-corruption campaigns in New Delhi in April and August, resulting in the government agreeing to his demand for a strong Lokpal bill and passing it in the winter session of parliament.
"Especially I hope to gather as much energy from these young men and women as I had during my prior movement," Hazare said, adding that the "energy" will be utilized to get the Jan Lokpal bill, Team Anna's version of the proposed ombudsman legislation, passed in parliament. He has also said that he would continue his "struggle" for 'Right to Reject' the candidates in the poll battle and 'Right to Recall' those elected.
"All my countrymen will be associated with me directly in this struggle is my belief," Hazare said. Though he had started his vow of silence Oct 16, he has been putting forward his view through his writings that are then read out by his supporters or through his blog.
Article viewed on Oye! Times at www.oyetimes.com