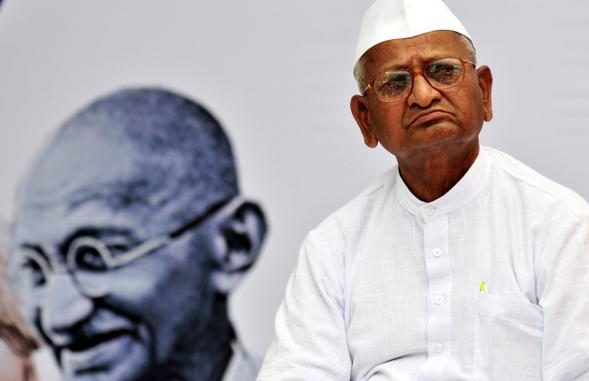 Articulating his discontent over the way ruling parties are governing the country, anti-corruption crusader Anna Hazare on Sunday called for a People's Parliament (Jan Sansad) in around five months. Claiming that the action would historically set motion to the struggle against misrule of the incumbent governing body, Anna Hazare said the change will start from Ramlila grounds in Delhi.

"Parties should realize that common man can pull down any government," he exclaimed.

After paying his obeisance at the Golden Temple and Durigiana Mandir on Sunday, Anna Hazare came to address a rally organized by his Jan Morcha. Addressing to the gathering, he urged the public to observe zero tolerance policy against corruption and stressed upon the need for a "Jan Kranti" to unshackle India from corrupt policies and politicians.

Anna Hazare warned the political parties to promptly respond to the 25-point charter presented by Jan Morcha in order to avoid Jan Sansad. The aim behind this Yatra was to spread the word and create awareness among the public of the faulty policies and decisions of the UPA government.

"For me the Jantantra Yatra is the second freedom struggle to free the nation from corruption, corrupt politicians and other social evils… If we get the backing of six crore people, the government will be forced to bow before this Jan Shakti (people's power)," Hazare said.

Anna Hazare will continue organizing public rallies across Punjab during the next week and later travel through Haryana and Uttarakhand. The first leg of the Yatra would end on April 17 and recommence after a short break.