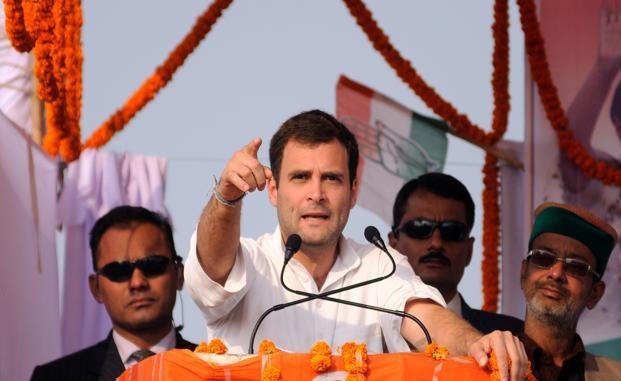 Today Rahul Gandhi took up charge and attacked the BJP prime ministerial candidate, Narendra Modi, comparing him to Adolf Hitler. The Congress leader was addressing a massive rally in Balasinor in central Gujarat, which is usually the stronghold of Congress.

The voter of Gujarat was convinced to pick him over Modi by the two examples presented by Gandhi where he compares Modi to Hitler. "There are two types of leaders. One who meets with people, visits their homes like Gandhiji and understands them…Such a leader is humble and has no arrogance, like Gandhiji," Rahul said. While in contrast he represented the example of Adolf Hitler, "There is another type of leader: Hitler. Hitler believed there was no need to learn from the people. Whatever will happen in Germany will be done by Hitler and the people have nothing to do with it."

Gandhi did not take Modi's name, but left no room for doubt when he raked up the Gujarat CM's bid to project himself as the people's "watchman" in New Delhi. "India doesn't need a security guard, people of the nation need their rights." He accused the state of snatching away land from farmers, a charge that has been levelled against the Modi government by Aam Aadmi Party leader Arvind Kejriwal as well. "Is stealing land from the poor considered safeguarding their interests? Is that what a watchman does? Taking away farmers' lands without any compensation is chori (theft), not a chowkidari," he said.