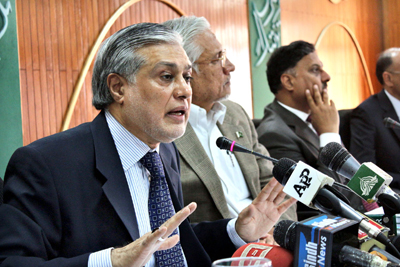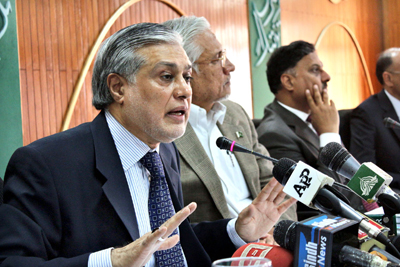 The Pakistan Minister for Finance, Muhammad Ishaq Dar has said that Pakistan was making progress in all the sectors. He said Pakistan would get huge amount after issuing 3G and 4G licenses in the market. Talking to a private television channel, he said that Japan,IMF and international economists appreciated the economic policies of Pakistan. Ishaq Dar said that all out efforts were being made to bring stability in Pakistani currency. He said: "It is the blessings of Allah Almighty that Pakistan's economy is showing upward trend." The Minister said that some elements were making speculations about economy of the country. He said that all such rumors about the weak business related markets were baseless.

He said that the rupee would further strengthen in days to come. He said that inflation was moving down, adding that the foreign reserves were increasing. Ishaq Dar said that no stone would be left unturned to put the country on path to progress. Replying to a question, he said that international markets were reposing confidence in the markets of Pakistan and showing keen interest in different sectors.

Replying another question, he said that duration of loadshedding had minimized to remarkable level. He said that present government was taking all important measures to resolve the energy problem. The Minister said that steps were being taken to add more energy in the system, adding that gas facility would be provided to industrial sector to achieve progress. He said that PML-N government was focusing on elimination of extremism and terrorism, besides strenthening the economy and energy sector.